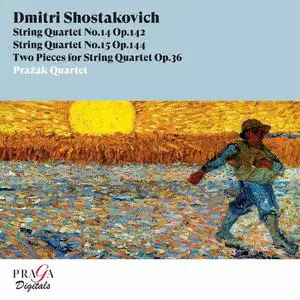 Prazak Quartet - Dmitri Shostakovich: String Quartets Nos. 14 & 15, Two Pieces, Op. 36 (2014)
FLAC (tracks), Lossless | 1:09:30 | 313 Mb
Genre: Classical / Label: Praga Digitals
The Prazak Quartet is not only one of the leading string quartets from Czechoslovakia, but among the longest-lived from any country. Although most of the original membership is gone, all the current personnel has been in place since 1986, and two of the three replacements have served since the early or mid-'70s. Not surprisingly, the ensemble has shown a preference for Czech repertory, focusing particularly on Dvorák, Smetana, Janácek, and Martinu. But the group has also demonstrated an affinity for the string quartets of Haydn, Mozart, Schubert, Brahms, and other composers in the Germanic sphere. The repertory extends to the twentieth century as well, encompassing Zemlinski, Schoenberg, Berg, Schulhoff, and many others. The ensemble has made numerous recordings for a variety of labels, pirmarily on Praga, but including Harmonia Mundi, Supraphon, Orfeo, and Nuovo Era. The Prazak Quartet was founded in 1972 by cellist Josef Prazák and violist Josef Kluson, the only current original member. All of the original members were Prague Conservatory students. The makeup of the group changed often in its early years: Vaclav Remes (first violinist) joined the ensemble in 1973; Vlastimil Holek (second violinist) became the next replacement, in 1976; and then in 1986 cellist Michal Kanka replaced Prazák.