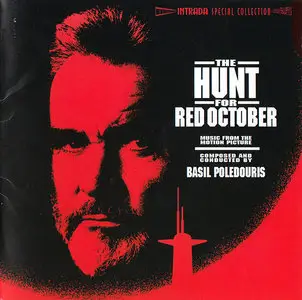 Basil Poledouris - The Hunt for Red October: Music From The Motion Picture (1990)
Expanded Remastered Edition 2013
EAC | FLAC (Tracks) + cue.+log ~ 371 Mb | Mp3, CBR320 kbps ~ 160 Mb | Scans ~ 141 Mb
Soundtrack, Score | Label: Intrada | # Special Collection Volume 257 | 01:10:11
World premiere expanded CD of Basil Poledouris soundtrack for John McTiernan film from Tom Clancy novel, starring Sean Connery, Alec Baldwin, Scott Glenn, James Earl Jones, Sam Neill. Sensational action-suspense tale is film introduction of Jack Ryan (Baldwin), working with CIA intelligence to determine if Soviet commander piloting nuclear super-sub heads towards U.S. waters to defect… or launch attack. Best of four films featuring Jack Ryan to date, Poledouris brings inspired mood, color to exciting tale by weighing anchor with magnificent, massive "Hymn To Red October" for large orchestra, chorus, then taking off with vivid cues for orchestra, layers of electronics plus his chorus. Score literally provides rhythm, pulse of movie as well as underlines intense action sequences. Interestingly, one of score's few moments of respite comes with reflective "Two Wives", a gentle cue dropped from finished film. Entire score remains one of composer's most important works, and earns it's place as a classic of nineties motion picture music! Original MCA label CD was mere 30-minute sampling of score. Intrada CD offers over an hour of masterful music including first release of "End Title" given significance in one point by powerful presentation of main hymn melody via orchestra sans choir in dynamic manner.