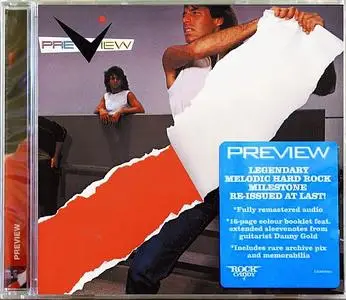 Preview - Preview (1983) [2006, Remastered Reissue]
Rock, Pop Rock, Arena Rock, AOR | EAC Rip | FLAC, Img+CUE+LOG+Scans (JPEG) | 32:43 | 239,03 Mb
Label: Rock Candy Records Ltd. (UK) | Cat.# CANDY025 | Released: 2006 (1983)
From the state of New York came Preview, an admirably melodic AOR group that released only a single album full of catchy material before (mournfully and unjustifiably) disappearing off the scene prior to gaining any traction. Years later, however, a bootleg became available of the band's unreleased second album, and although Preview seemed to have soldiered on (at least for a short time) in the same overall style on its second potential release, creating another decent record, the songwriting didn't seem quite as immediate or the "polish" quite as sparkling. But then again, these tunes had not been finalized for an "official" release, therefore, although the potential certainly existed, who knows what the tunes may have sounded like in a professionally produced and mastered condition?