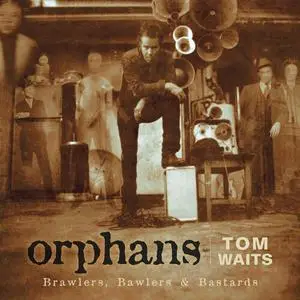 Tom Waits - Orphans: Brawlers, Bawlers & Bastards (Remastered) (2017)
FLAC (tracks), Lossless / MP3 320 kbps | 3:09:45 | 436 Mb / 1 Gb
Genre: Blues Rock, Alternative, Singer-Songwriter / Label: Anti - Epitaph
At this stage of the game, any new Tom Waits record is an event. Listening through the music of his entire career is daunting, to say the least, but it's a journey no one else, with the possible exception of Bob Dylan, has taken before. If one listens to the official recordings, from 1973's Closing Time, featuring the songs of an itinerant Beat barroom singer (no lounges please), right on through to the frenetic mania of 2004's Real Gone, one becomes aware of not only the twists and turns of a songwriter wrestling and bellowing at and with his muse, but of a journeyman artist barely able to hold on to the lid of his creativity, let alone keep it on.