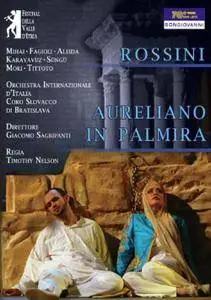 Giacomo Sagripanti, Orchestra Internazionale d'Italia - Gioacchino Rossini: Aureliano in Palmira (2012)
NTSC 16:9 (720x480) | Italiano (LinearPCM, 2 ch) | 170 min | 7,64 Gb (DVD9)
Classical | Label: Bongiovanni | Sub: Italiano, English | Recorded: 2011
The Festival della Valle d'Itria mounted this lavish production of Gioachino Rossini's 1813 opera Aureliano in Palmira, in July 2011. Aureliano in Palmira movie It was staged and performed at the Palazzo Ducale, in Martina Franca, Italy. Aureliano in Palmira video The cast includes Bogdan Mihai as Aureliano, Franco Fagioli as Arsace, Maria Aleida as Zenobia and Asude Karayavuz as Publia, with the special participation of Louise Frank as Vecchia Zenobia. Aureliano in Palmira film The Orchestra Internazionale d'Italia and the Coro Slovacco di Bratislava provide additional musical accompaniment, with Pavol Prochazka serving as chorus master and Giacomo Sagripanti conducting.