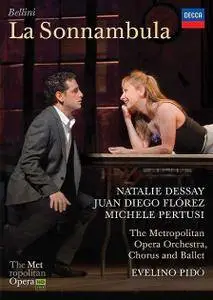 Evelino Pidó, The Metropolitan Opera Orchestra, Natalie Dessay, Juan Diego Flórez - Bellini: La Sonnambula (2010)
NTSC 16:9 (720x480) | Italiano (LinearPCM, 2 ch) | (DTS, 6 ch) | 138 min | 7,31 Gb (DVD9)
Classical | Label: Decca | Sub: English, Francais. Deutsch, Espanol, Chinese | Recorded: 2009
In his latest Decca DVD release, bel canto star Juan Diego Flórez undertakes the role of Elvino in Bellini's romantic drama, playing opposite the mercurial French soprano, Natalie Dessay, in the Met's striking, modern-dress production from March 2009. Bellini's romantic opera La Sonnambula (1831), hinges on the love and misunderstanding between Elvino and Amina (the 'sleepwalker' of the title). Discovered in the bedroom of Rodolfo, Amina is assumed to have been unfaithful, and Elvino cancels their wedding. But in the dramatic final scene, he witnesses Amina sleepwalking, understands her innocence, and all ends happily. Mary Zimmerman's production plays with the dual realities of a rehearsal of the opera and a performance of the opera itself.