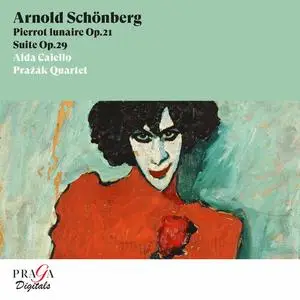 Alda Caiello, Prazak Quartet - Arnold Schönberg: Pierrot Lunaire, Op. 21, Suite Op. 29 (2012)
FLAC (tracks), Lossless | 1:07:30 | 268 Mb
Genre: Classical / Label: Praga Digitals
Playing host to an ad hoc group of musicians, the Prazák Quartet presents two of Arnold Schoenberg's classic works in a program that coheres most effectively. The pairing of the expressionist melodrama Pierrot lunaire and the angular, twelve-tone Suite requires the addition of a female vocalist, flute doubling on piccolo, two clarinets, a bass clarinet, and a piano to the Prazák's members, so this is a practical match-up for a concert, provided the players are available. Soprano Alda Caiello delivers the sprechstimme of Pierrot lunaire with a variety of expressions that sort with the bizarre moods and characters in the songs, and her delivery is theatrical, intense, and disturbing in its edginess. The instrumentalists are obviously at home in Schoenberg's music, so the complexities of Pierrot's tense accompaniment and the pungent counterpoint of the Suite come off with apparent ease. The recording space is quite spacious and reverberant, so this takes some of the harshness off Schoenberg's dissonances, and the roominess of the sound provides a great deal of separation, so the players can be differentiated with little difficulty. This may not be the best choice for listeners who like dry textures and crisp definition in these pieces, but that preference should take nothing away from the merits of this album.