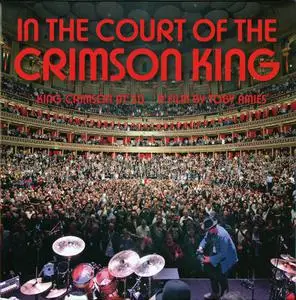 King Crimson - In The Court Of The Crimson King (King Crimson At 50 A Film By Toby Amies) (2022)
2DVD9 | NTSC 16:9 (720x480), VBR | DD 5.1, 48.0 kHz, 448 kbps / LPCM 2.0, 48.0 kHz/24 bits, 1536 kbps
~ 16 Gb | Full Scans ~ 559 Mb | 04:55:42 | RAR 5% Recovery
Progressive Rock | Panegyric / Discipline Global Mobile / Inner Knot #KCXP5011
Described by Variety magazine as "really about as good as rock documentaries get", the long-awaited, official King Crimson documentary by Toby Amies will be released in Limited edition form as an 8 Disc boxed set containing 2 Blu-Rays, 2 DVDs and 4 CDs. The set includes the full film, an early edited version of the film, live and studio performances from the 50th anniversary tour plus a plethora of additional footage. It also includes the music from the original soundtrack and more over 4 CDs - many tracks previously unreleased and/or new to CD. The film appears in DTS-HD MA 5.1 Surround on Blu-ray 1 and in Dolby Digital 5.1 Surround on DVD 1. The film and other material on Blu-ray 1/DVD 1 - the final performance of 'Starless from December 2021, an early edit of sections of the film and a set of trailers/shorts, appear in LPCM 24/48 Stereo on both formats. Blu-ray 2/DVD 2 feature: Tring, Rock In Rio, 38 minutes backstage footage and more.