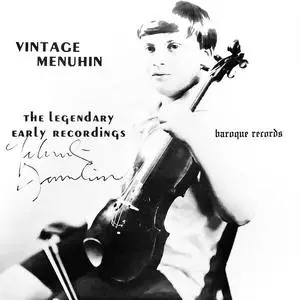 Yehudi Menuhin - The Legendary Early Recordings (1972/2023)
MP3 CBR 320 kbps - 79 MB
34:01 | Classical, Romantic | Label: Baroque Records
The legendary violinist Yehudi Menuhin was the eldest child of Russian-born Hebrew scholars who met in Palestine, emigrated to New York City, and moved to San Francisco soon after their son's birth. After just three years of violin study, Yehudi made a legendary debut at age seven with the local symphony. His Carnegie Hall debut three years later, in the Beethoven Violin Concerto, garnered praise that likened him to Mozart as a prodigy, whereupon the family (which now included sisters Hephzibah and Yaltah) lived gypsy-like in hotels wherever Yehudi was engaged at enormous fees. But the child's talent was instinctive. As Fritz Kreisler was to remark later on, "Because the young Menuhin had anticipated so early and so much of what nature had given him, I foresaw that he would have great difficulties." And he did.