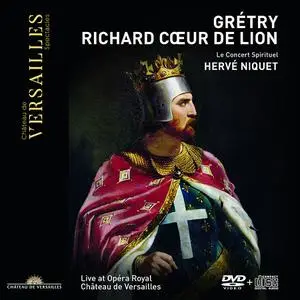 Hervé Niquet, Le Concert Spirituel - André-Ernest-Modeste Grétry: Richard Cœur de Lion (2020)
NTSC 16:9 (720x480) | Francais (Dolby AC3, 6 ch) | | 90 min | 4,93 Gb (DVD9)
Classical | Label: Château de Versailles Spectacles | Sub: Francais, English, Deutsch | Recorded: 2019
André Grétry's Richard Coeur de Lion, or Richard the Lionhearted, lay neglected until 2019 when a production by the Opéra Royal de Versailles was mounted. This album is taken from that performance, and it's very well recorded indeed. The opera was quite well known in its time and was even performed in the young U.S. (in Boston, in 1796), and it's a great find, a real crowd-pleaser as much today as at the end of the 18th century. The story is based on a probably imaginary tale of an episode during Richard's return from the Crusades, when he was imprisoned in Linz, Austria.