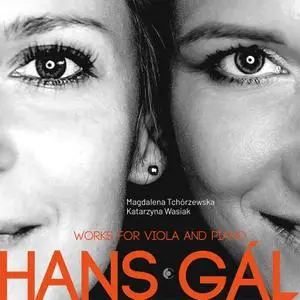 Magdalena Tchórzewska & Katarzyna Wasiak - Hans Gál: Works for Viola & Piano (20
WEB FLAC (tracks) - 172 Mb | MP3 CBR 320 kbps - 96 Mb | Digital booklet | 00:41:19
Classical | Label: RecArt
The album "Hans Gál works for viola and piano" (RecArt 0045) performed by Magdalena Tchórzewska (viola) and Katarzyna Wasiak (piano) contains the only surviving compositions for viola and piano by H. Gál - an Austrian composer at the turn of the 19th / 20th century, a distinguished Viennese and J. Brahms, a lover of F. Schubert's melodies, as well as J.S. Bach, referring in its style to the complex harmonies of modernism of the beginning of the 20th century. Music on the CD, composed during the composer's stay in England in the 1940s, appear for this instrumental viola-like instrument, with the accompaniment of a voice in the equatorial unified dialogue. The work of the composer, which from 1933 to create the "degenerated" category only for years, was reborn anew. This album is the result of many years of cooperation and the artistic activity of discovering and expanding the music of forgotten composers.