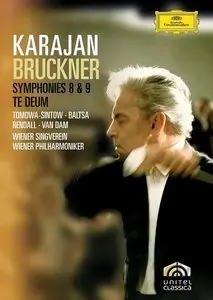 Herbert von Karajan, Wiener Philharmoniker, Wiener Singverein - Bruckner: Symphonies Nos. 8 & 9; Te Deum (2008/1978)
NTSC 4:3 (720x480) | Latin (LinearPCM, 2 ch) | (DTS, 6 ch) | 7.15 Gb+6.07 Gb (2xDVD9) | 172 min
Classical | Deutsche Grammophon | Sub: Latin, English, Deutsch, Francais, Espanol, Chinese
In these priceless documents from the late 1970s, filmed in the Bruckner shrines of Vienna and St Florian, Herbert von Karajan conducts the Vienna Philharmonic in Bruckner's Eighth - the symphony he revered above all others - and Ninth, as well as the towering Te Deum. "Massive, glowing, and infused with cosmic power" (conductor/scholar Denis Stevens on Karajan's Bruckner Eighth filmed with the Vienna Philharmonic).