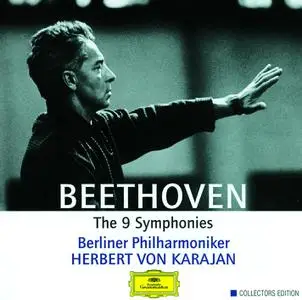 Berliner Philharmoniker, Herbert von Karajan - Beethoven: The 9 Symphonies (1999)
WEB | FLAC (tracks) - 1.7 Gb | 05:29:39
Genre: Classical | Label: Deutsche Grammophon
This was the first set of the Nine to be planned, recorded and sold as an integral cycle. It was also a set that had been extremely carefully positioned from the interpretative point of view. Where Karajan's 1950s Philharmonia cycle had elements in it that owed a certain amount to the old German school of Beethoven interpretation, the new-found virtuosity of the Berliners allowed him to approach more nearly the fierce beauty and lean-toned fiery m anner of Toscanini's Beethoven style as Karajan had first encountered it in its halcyon age in the mid-1930s.