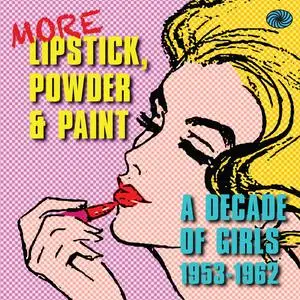 VA - More Lipstick, Powder and Paint: A decade of girls 1953-1962 (2015)
MP3 CBR 320 kbps - 564 MB
3:43:02 | Pop, Light Music, Vocal, Country, R&B, Easy Listening | Label: Fantastic Voyage
No girl singer achieved the world wide star status of an Elvis Presley or Frank Sinatra and no girl group had anything like as sustained a run of hits as a Drifters or Four Tops. But in that heady decade between 1953 and 1962, the girl singers were no less important in the world of entertainment. Country music was full of girl singers, girls could handle a ballad just as well as the boys and many were recipients of songs by some of pop music's legendary songsmiths of the day. On More Lipstick, Powder & Paint (sequel to Lipstick, Powder & Paint FVTD194), you'll find classic songs, readily recognisable names, as well as lost gems from country, pop and R&B and a few that we hope will be a revelation for you. Prepare to step back in time…and be royally entertained.