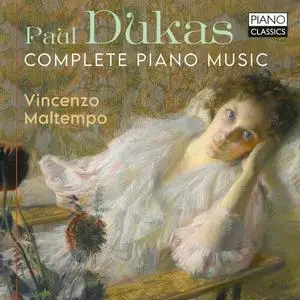 Vincenzo Maltempo - Dukas: Complete Piano Music (2023)
FLAC (tracks), Lossless / MP3 320 kbps | 1:13:46 | 169 / 205 Mb
Genre: Classical / Label: Piano Classics
Paul Dukas (1865-1935) was born in Paris, France. He was a student at the Paris Conservatory where he studied piano, harmony, and composition. He won the Prix de Rome for a counterpoint and fugue in 1886 and again in 1888 with the cantata, Velleda. He was the music critic for the Revue Hebdomadaire and Gazette des Beaux-Arts and at the same time, he was a professor of orchestration at the Conservatoire. His strong critical sense led him to destroy a number of his compositions and only allow a relatively small number of works to be published. He remained influential and respected as a teacher. Dukas' output for the piano includes just five works: the Piano Sonata and the Variations, each of them a homage to a past master, to Beethoven and (more explicitly) to Rameau.