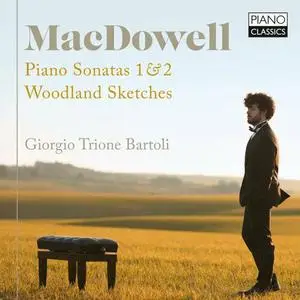 Giorgio Trione Bartoli - MacDowell: Piano Sonatas 1 & 2, Woodland Sketches (2022)
FLAC (tracks), Lossless / MP3 320 kbps | 1:13:01 | 166 / 190 Mb
Genre: Classical / Label: Piano Classics
A multiplicity of cultural influences makes the figure of Edward MacDowell (1860-1908), an American pianist-composer trained for a long time in Europe, particularly original. Born in New York, he received his first lessons from Colombian, Cuban and Venezuelan musicians, including the famous pianist Teresa Carreño. At the age of seventeen, MacDowell continued his studies at the Paris Conservatory, in Antoine Marmontel's class, and then at the Frankfurt Hochschule, where he studied composition with Joachim Raff. He was listened to by Clara Schumann and Franz Liszt, and was introduced by the latter to the publisher Breitkopf & Härtel in Leipzig. In 1888 he returned to the United Sates where he settled in Boston, combining his work as a composer with that of a concert pianist. When he moved to New York in 1896, he also taught at Columbia University, where MacDowell was the first to create a music department. In the same year, 1896, the MacDowells bought a farm in New Hampshire, an ideal place to pursue musical creativity in a peaceful rural setting. Much of MacDowell's compositional output dates from this happy period, including two piano concertos, two orchestral suites, four symphonic poems, several piano suites, Songs, four piano sonatas and numerous piano transcriptions of 18th-century music.
Track List:
01. Giorgio Trione Bartoli - Piano Sonata No.1 in G Minor, Op. 45 "Tragica": I. Largo Maestoso (08:54)
02. Giorgio Trione Bartoli - Piano Sonata No.1 in G Minor, Op. 45 "Tragica": II. Molto allegro, Vivace (02:47)
03. Giorgio Trione Bartoli - Piano Sonata No.1 in G Minor, Op. 45 "Tragica": III. Largo con Maestà (07:50)
04. Giorgio Trione Bartoli - Piano Sonata No.1 in G Minor, Op. 45 "Tragica": IV. Allegro Eroico (08:29)
05. Giorgio Trione Bartoli - Piano Sonata No. 2 in G Minor, Op. 50 "Eroica": I. Slow, with Nobility (08:09)
06. Giorgio Trione Bartoli - Piano Sonata No. 2 in G Minor, Op. 50 "Eroica": II. Elf-Like, as Light and Swift as Possible (03:30)
07. Giorgio Trione Bartoli - Piano Sonata No. 2 in G Minor, Op. 50 "Eroica": III. Tenderly, Longingly, Yet with Passion (05:35)
08. Giorgio Trione Bartoli - Piano Sonata No. 2 in G Minor, Op. 50 "Eroica": IV. Fiercely, Very Fast (07:27)
09. Giorgio Trione Bartoli - Woodland Sketches, Op. 51: I. To a Wild Rose (01:49)
10. Giorgio Trione Bartoli - Woodland Sketches, Op. 51: II. Will o' the Wisp (01:24)
11. Giorgio Trione Bartoli - Woodland Sketches, Op. 51: III. At an Old Trysting Place (01:33)
12. Giorgio Trione Bartoli - Woodland Sketches, Op. 51: IV. In Autumn (01:34)
13. Giorgio Trione Bartoli - Woodland Sketches, Op. 51: V. From an Indian Lodge (02:32)
14. Giorgio Trione Bartoli - Woodland Sketches, Op. 51: VI. To a Water Lily (02:34)
15. Giorgio Trione Bartoli - Woodland Sketches, Op. 51: VII. From Uncle Remus (01:20)
16. Giorgio Trione Bartoli - Woodland Sketches, Op. 51: VIII. A Desert Farm (02:29)
17. Giorgio Trione Bartoli - Woodland Sketches, Op. 51: IX. By a Meadow Brook (01:09)
18. Giorgio Trione Bartoli - Woodland Sketches, Op. 51: X. Told at Sunset (03:56)
ANALYZER: auCDtect: CD records authenticity detector, version 0.8.2
Copyright © 2004 Oleg Berngardt. All rights reserved.
Copyright © 2004 Alexander Djourik. All rights reserved.


FILE: 01 - Piano Sonata No.1 in G Minor, Op. 45 _Tragica__ I. Largo Maestoso.flac
Size: 24274795 Hash: 7CE1994E8FA8A206AD33BAAE412414E4 Accuracy: -m40
Conclusion: MPEG 90%
Signature: 14DA314D629B700E69BCBA21F331405C8AA98BFA
FILE: 02 - Piano Sonata No.1 in G Minor, Op. 45 _Tragica__ II. Molto allegro, Vivace.flac
Size: 8914555 Hash: E1A3278E2B11105D18CE53DF14B421ED Accuracy: -m40
Conclusion: CDDA 94%
Signature: 9A4E732802F08F2E54C695DABCD48F0668CE5BB4
FILE: 03 - Piano Sonata No.1 in G Minor, Op. 45 _Tragica__ III. Largo con Maestà.flac
Size: 20580198 Hash: DDE62BDE27E0A0274FF0906EEE012EF7 Accuracy: -m40
Conclusion: CDDA 62%
Signature: 0FD907F2ED31699FE37B556F7791347A0BDF949C
FILE: 04 - Piano Sonata No.1 in G Minor, Op. 45 _Tragica__ IV. Allegro Eroico.flac
Size: 26630488 Hash: 07DC2DC3F391F58476382029D9803F34 Accuracy: -m40
Conclusion: MPEG 100%
Signature: C93DCC0C4B0CA6FB5D5FC736528340F3B940C103
FILE: 05 - Piano Sonata No. 2 in G Minor, Op. 50 _Eroica__ I. Slow, with Nobility.flac
Size: 24716440 Hash: 8EA4F382566E6FAE05BCE828D061423A Accuracy: -m40
Conclusion: CDDA 76%
Signature: 5A01BCEE24550AE5268D7E5C5822F984D11AF52C
FILE: 06 - Piano Sonata No. 2 in G Minor, Op. 50 _Eroica__ II. Elf-Like, as Light and Swift as Possible.flac
Size: 10893903 Hash: D069A86B83CAE3033585D0E1D34229B4 Accuracy: -m40
Conclusion: CDDA 86%
Signature: 4FB7208649050E555A620377C1AAD792754056F7
FILE: 07 - Piano Sonata No. 2 in G Minor, Op. 50 _Eroica__ III. Tenderly, Longingly, Yet with Passion.flac
Size: 16051110 Hash: EF4FC616E793858A81BBBBE4AAC861D0 Accuracy: -m40
Conclusion: CDDA 100%
Signature: 3CB9E28108A6012956D70130E27DC1496A7E4912
FILE: 08 - Piano Sonata No. 2 in G Minor, Op. 50 _Eroica__ IV. Fiercely, Very Fast.flac
Size: 23557967 Hash: B372B438656C40B9B01CBD943BB4751A Accuracy: -m40
Conclusion: CDDA 85%
Signature: 95ABD59CDE26E3640ECCC0A4F428E1C533E00681
FILE: 09 - Woodland Sketches, Op. 51_ I. To a Wild Rose.flac
Size: 4054043 Hash: DF08DA742B6D88C1FF45B81A4D752354 Accuracy: -m40
Conclusion: CDDA 94%
Signature: FF41B3639E7F0F07EB1220629D035468101B95EF
FILE: 10 - Woodland Sketches, Op. 51_ II. Will o' the Wisp.flac
Size: 3574514 Hash: 6C7B74204C5C92A24D3084D62F4136C4 Accuracy: -m40
Conclusion: CDDA 100%
Signature: 272D2533B58A95B321D86D4D7ADCE485BEC15F4D
FILE: 11 - Woodland Sketches, Op. 51_ III. At an Old Trysting Place.flac
Size: 3542338 Hash: 96D274F8A4CB73749BCA7713BF98A6A7 Accuracy: -m40
Conclusion: CDDA 100%
Signature: 3185498D551203EAD4C947EC43E5BE9DA3618785
FILE: 12 - Woodland Sketches, Op. 51_ IV. In Autumn.flac
Size: 4178802 Hash: 55FAADE4C1154FB7CAE71447AA7851B4 Accuracy: -m40
Conclusion: CDDA 87%
Signature: 9CBA348AF5E4D302582FFBE25284AF48C60D900D
FILE: 13 - Woodland Sketches, Op. 51_ V. From an Indian Lodge.flac
Size: 5658250 Hash: E0908E8219333CCB383B1F6961A8864E Accuracy: -m40
Conclusion: CDDA 99%
Signature: 3780825CFF4AF59B4C8210785DA49E11540DFE1B
FILE: 14 - Woodland Sketches, Op. 51_ VI. To a Water Lily.flac
Size: 5657558 Hash: BB69F375F2E40B8DF0467B796759CDE5 Accuracy: -m40
Conclusion: MPEG 100%
Signature: 6C40BF2B5D4A204B8C63A09341FBBD00DF0DBBC9
FILE: 15 - Woodland Sketches, Op. 51_ VII. From Uncle Remus.flac
Size: 3519632 Hash: 6996B22B9CA715FBA903CC5A155B1717 Accuracy: -m40
Conclusion: CDDA 99%
Signature: 319495FFBD418C41B94ADD13E00C078E2535A40C
FILE: 16 - Woodland Sketches, Op. 51_ VIII. A Desert Farm.flac
Size: 5380779 Hash: B5FBECFCEDA107DFED13C01F9C03D8EE Accuracy: -m40
Conclusion: CDDA 100%
Signature: 0697C4B85DDEF90778B01DF3A3F02FFD60ACFDE0
FILE: 17 - Woodland Sketches, Op. 51_ IX. By a Meadow Brook.flac
Size: 3079288 Hash: 6574CABEF60A85D5791E3BEFECC52D80 Accuracy: -m40
Conclusion: MPEG 99%
Signature: 349B73038B0C1031B40EF6D1151AD0D156E3D8B1
FILE: 18 - Woodland Sketches, Op. 51_ X. Told at Sunset.flac
Size: 9498412 Hash: 47373509FCB5DC4DF142B9988971DC90 Accuracy: -m40
Conclusion: MPEG 100%
Signature: 8A868F39D054C7BF5389BEB0C21F12AFF20E945C