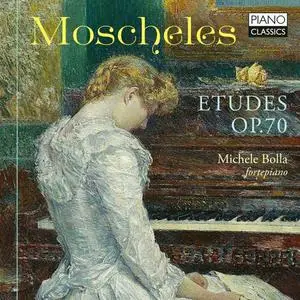 Michele Bolla - Moscheles: Etudes, Op. 70 (2022)
FLAC (tracks), Lossless / MP3 320 kbps | 1:14:22 | 229 / 168 Mb
Genre: Classical / Label: Piano Classics
Ignaz Moscheles (1794-1870) was born in Prague. In 1808 he settled in Vienna where he was a pupil of Albrechtsberger and Salieri - thanks to whose commendations he became adjunct Kapellmeister to the Court Theatre from 1811 to 1813. Beethoven was so impressed by him that he entrusted him with the piano transcription of Fidelio. The approval of Beethoven and the establishment of a friendship between them that would continue over time were pivotal in those years to launching the young musician into the stream of the international concert world. Moscheles was a key figure in the transition period between the generation rooted in classicism (Hummel, Field, Cramer, Kalkbrenner, etc.) and the early romantics. His musical language may be best compared to that of Mendelssohn, his pupil and friend.
Track List:
01. Etudes, Op. 70: I. Allegro moderato in C Major
02. Etudes, Op. 70: II. Allegro energico in E Minor
03. Etudes, Op. 70: III. Allegro brillante in G Major
04. Etudes, Op. 70: IV. Lentamente con tranquilezza in E Major
05. Etudes, Op. 70: V. Allegretto agitato con passione in A Minor
06. Etudes, Op. 70: VI. Allegro giocoso in D Minor
07. Etudes, Op. 70: VII. Allegro energico non troppo presto in B-Flat Major
08. Etudes, Op. 70: VIII Allegro agitato in E-Flat Minor
09. Etudes, Op. 70: IX. Cantabile moderato ed espressivo in A-Flat Major
10. Etudes, Op. 70: X. Andantino in B Minor
11. Etudes, Op. 70: XI. Allegro maestoso e patetico in E-Flat Major
12. Etudes, Op. 70: XII. Agitato in B-Flat Minor
13. Etudes, Op. 70: XIII. Allegro brillante in D Major
14. Etudes, Op. 70: XIV. Allegro maestoso in G Minor
15. Etudes, Op. 70: XV. Allegro giocoso in A-Flat Minor
16. Etudes, Op. 70: XVI. Adagio ma non troppo in B Major
17. Etudes, Op. 70: XVII. Andantino in F-Sharp Minor
18. Etudes, Op. 70: XVIII. Allegro con brio in F-Sharp Major
19. Etudes, Op. 70: XIX. Vivace in A Major
20. Etudes, Op. 70: XX. Adagio con molto espressione in C-Sharp Minor
21. Etudes, Op. 70: XXI. Allegro moderato in D-Flat Major
22. Etudes, Op. 70: XXII. Allegro in F Major
23. Etudes, Op. 70: XXIII. Allegro marcato in C Minor
24. Etudes, Op. 70: XXIV. Preludium. Allegro comodo in F Minor
25. Etudes, Op. 70: XXIV. Fugue. Allegro moderato in F Minor
26. Etudes, Op. 70: IX. Cantabile moderato ed espressivo in A-Flat Major (2)
27. Etudes, Op. 70: X. Andantino in B Minor (2)
28. Etudes, Op. 70: XII. Agitato in B-Flat Minor (2)
ANALYZER: auCDtect: CD records authenticity detector, version 0.8.2
Copyright © 2004 Oleg Berngardt. All rights reserved.
Copyright © 2004 Alexander Djourik. All rights reserved.


FILE: 01 - Etudes, Op. 70_ I. Allegro moderato in C Major.flac
Size: 8048004 Hash: 1D218DF14A172BF0FE3B0EA31602B42E Accuracy: -m40
Conclusion: MPEG 99%
Signature: C6D901387D2DAD019475BD6C31D99E820166007F
FILE: 02 - Etudes, Op. 70_ II. Allegro energico in E Minor.flac
Size: 5976362 Hash: FBF1A168D487182CC44F1E930464EFEB Accuracy: -m40
Conclusion: MPEG 100%
Signature: F7CF737F936FF058B840B7DA1613AD7DAE0A72F7
FILE: 03 - Etudes, Op. 70_ III. Allegro brillante in G Major.flac
Size: 9599547 Hash: 7E567DCDDA4C53F50E0A690AB7B22ED5 Accuracy: -m40
Conclusion: MPEG 100%
Signature: 1C513A29AAA73253481FEBC8C427D24E6330D577
FILE: 04 - Etudes, Op. 70_ IV. Lentamente con tranquilezza in E Major.flac
Size: 8869047 Hash: 0AAB14EEB0F547F01AAB27CFC94AC77F Accuracy: -m40
Conclusion: CDDA 43%
Signature: B030089E0AE2C7754602EEDF507A0C430C9B11E3
FILE: 05 - Etudes, Op. 70_ V. Allegretto agitato con passione in A Minor.flac
Size: 7894848 Hash: C0A77DB4D18455CF91D3B376D3C71A17 Accuracy: -m40
Conclusion: CDDA 85%
Signature: 257B4B0BE95C950EB55E82F54FFBD0395896695F
FILE: 06 - Etudes, Op. 70_ VI. Allegro giocoso in D Minor.flac
Size: 8842400 Hash: 49FBC3402DE6D092EB98CCAFF8756E2A Accuracy: -m40
Conclusion: CDDA 62%
Signature: 0268F056DC1CA64921AE0B6D2E56E8CA3B9E684B
FILE: 07 - Etudes, Op. 70_ VII. Allegro energico non troppo presto in B-Flat Major.flac
Size: 10140148 Hash: D8A143F325B651A2A75D263DE13E4084 Accuracy: -m40
Conclusion: MPEG 100%
Signature: 3AE86BF15850E3C78F5E795E59EB801E4240F069
FILE: 08 - Etudes, Op. 70_ VIII Allegro agitato in E-Flat Minor.flac
Size: 8361074 Hash: 0910199CAD982CCAB8390DA0738908F6 Accuracy: -m40
Conclusion: MPEG 99%
Signature: B6CBA383A8A15010B63063609856FE076611A92F
FILE: 09 - Etudes, Op. 70_ IX. Cantabile moderato ed espressivo in A-Flat Major.flac
Size: 10820462 Hash: 2B184AAB5EC25067DEB3001D766E60D1 Accuracy: -m40
Conclusion: MPEG 93%
Signature: D93721097D6A0C07B701E5BA39644E067CBD1B88
FILE: 10 - Etudes, Op. 70_ X. Andantino in B Minor.flac
Size: 9362369 Hash: 66FDD771E5A904C34635C85F45459CAD Accuracy: -m40
Conclusion: MPEG 89%
Signature: 0A605F81AFDDAE33A28EAC23E534780E963F9EC7
FILE: 11 - Etudes, Op. 70_ XI. Allegro maestoso e patetico in E-Flat Major.flac
Size: 7860294 Hash: 6C54CC78CC1619AFB4586F39C5DCE641 Accuracy: -m40
Conclusion: MPEG 90%
Signature: 5ACDF176CEDDA125C6C3FF0A62D454CE11483C83
FILE: 12 - Etudes, Op. 70_ XII. Agitato in B-Flat Minor.flac
Size: 7983967 Hash: C94F07BC604EEF9F1B78AA8972656575 Accuracy: -m40
Conclusion: CDDA 99%
Signature: EF6BD4476074CD49EFA81D4706D09C94BC2FC195
FILE: 13 - Etudes, Op. 70_ XIII. Allegro brillante in D Major.flac
Size: 7314511 Hash: C5E164178C81B64AEB2B7883EDF9E6CD Accuracy: -m40
Conclusion: MPEG 93%
Signature: A5FA055544A69010B57DB644F49075DF278E7817
FILE: 14 - Etudes, Op. 70_ XIV. Allegro maestoso in G Minor.flac
Size: 6892135 Hash: 390C6D09117A9746AB14A9D717935282 Accuracy: -m40
Conclusion: MPEG 100%
Signature: 1D554F39E1C1CEEFB37858DB828E84D56C01E4AA
FILE: 15 - Etudes, Op. 70_ XV. Allegro giocoso in A-Flat Minor.flac
Size: 6110335 Hash: EA3E3BDAA166AF6B5336CA19850456F2 Accuracy: -m40
Conclusion: MPEG 100%
Signature: 2E02495843DAB5ACC4FB822ED52F56D5116AF1B1
FILE: 16 - Etudes, Op. 70_ XVI. Adagio ma non troppo in B Major.flac
Size: 7562936 Hash: 215F85A7464EC4BBDE4727D8C3DAF1DE Accuracy: -m40
Conclusion: CDDA 43%
Signature: 2927B186617A66D31F5C79351F2459B6DB14E164
FILE: 17 - Etudes, Op. 70_ XVII. Andantino in F-Sharp Minor.flac
Size: 8230005 Hash: B971EDA10E37EA80EE9C59CAE3368D31 Accuracy: -m40
Conclusion: CDDA 92%
Signature: 735AEBB25B0C9D967EA482943FED14AA1CEFBEC9
FILE: 18 - Etudes, Op. 70_ XVIII. Allegro con brio in F-Sharp Major.flac
Size: 5014388 Hash: A2400D811E5BB3D31ACF0BA4201975EC Accuracy: -m40
Conclusion: MPEG 100%
Signature: C5D51776711F8BB3332228DAF83424B35E7FAADA
FILE: 19 - Etudes, Op. 70_ XIX. Vivace in A Major.flac
Size: 5668347 Hash: 860684F05BF5C042A95D6A884AEB564D Accuracy: -m40
Conclusion: CDDA 43%
Signature: C5968205A630DD72AA4DB7ABF3825858F9CA0689
FILE: 20 - Etudes, Op. 70_ XX. Adagio con molto espressione in C-Sharp Minor.flac
Size: 15355509 Hash: E5CB0ECF3937AA793D1AB32F7E1EBC1A Accuracy: -m40
Conclusion: CDDA 43%
Signature: AE7688F89553134C52BE43248F32778BEE01523F
FILE: 21 - Etudes, Op. 70_ XXI. Allegro moderato in D-Flat Major.flac
Size: 9659532 Hash: 8B71432E5A3F49091996F05B03D3782A Accuracy: -m40
Conclusion: CDDA 100%
Signature: 531A741B986CD6AFEB865D33547E438ECAE93594
FILE: 22 - Etudes, Op. 70_ XXII. Allegro in F Major.flac
Size: 5000861 Hash: 9F1AC5890B28EAE37CD6CD0B9B2AFEDA Accuracy: -m40
Conclusion: CDDA 100%
Signature: 9A436FE058276E7CB8C2361CC64585976FBA7219
FILE: 23 - Etudes, Op. 70_ XXIII. Allegro marcato in C Minor.flac
Size: 12820464 Hash: D79B0C6FE7CD71A779A9AED08EC1BB26 Accuracy: -m40
Conclusion: MPEG 100%
Signature: 140987B1E3D37B4A7FD36EAEDB41B4C9DEDB117B
FILE: 24 - Etudes, Op. 70_ XXIV. Preludium. Allegro comodo in F Minor.flac
Size: 6892685 Hash: 161543E83CA9EC41BAFF6228A5CBB773 Accuracy: -m40
Conclusion: CDDA 87%
Signature: 991B372282C53DDA03FF5AF5DE49043C3A13FDBB
FILE: 25 - Etudes, Op. 70_ XXIV. Fugue. Allegro moderato in F Minor.flac
Size: 16925294 Hash: F5DBC5C3161FD5ECA2919C09FC4A861B Accuracy: -m40
Conclusion: CDDA 100%
Signature: 3AADB1E863D777BCA025508A9A39A4DAE350EAED
FILE: 26 - Etudes, Op. 70_ IX. Cantabile moderato ed espressivo in A-Flat Major (2).flac
Size: 9714939 Hash: F5AA46B6AC25A6647C8095FBBE428997 Accuracy: -m40
Conclusion: CDDA 100%
Signature: 4BBF656850B6ABCC0B89A0A84939C766ECDFBE5F
FILE: 27 - Etudes, Op. 70_ X. Andantino in B Minor (2).flac
Size: 8631936 Hash: 31CD337BCCCC2CDCC3EAE16EA716F93F Accuracy: -m40
Conclusion: MPEG 100%
Signature: FA594CDD2B6D7648CCD5CFBCA838555977ADAD63
FILE: 28 - Etudes, Op. 70_ XII. Agitato in B-Flat Minor (2).flac
Size: 7490377 Hash: AAD8F1C52AAC00C5AEA6122D5FADA127 Accuracy: -m40
Conclusion: CDDA 100%
Signature: D5AD52F479CDAD254DF7038696E695E21605EDF6