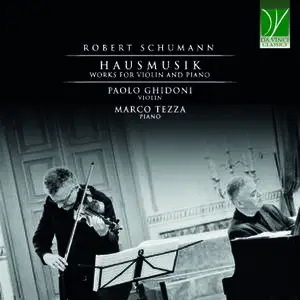 Marco Tezza, Paolo Ghidoni - Robert Schumann: Hausmusik (Works for Violin and Piano) (2023)
FLAC (tracks), Lossless / MP3 320 kbps | 1:12:22 | 302 / 165 Mb
Genre: Classical / Label: Da Vinci Classics
The struggle between momentary inspiration and the great Forms' moral needs cost Schumann, in time, a fall into darkness. His mind, inhabited by voices, built more and more monuments to Forms which were already fossils by his time, such as the Sonata, Symphony, or Oratorio. His impulsive nature (surprised, in turn, by the continual flow of themes arising from mysterious, and at times sinister, skies) was forced into a discipline whose destiny was to justify the genius, to redeem it from its sources earned by work alone. He had the self-taught man's shame for the easiness of his inventions. In his Hausmusik, the pieces he wrote for amateurs and for domestic use, his neurosis and his constant need for academic recognition found rest against the destructive spur etching his mind.