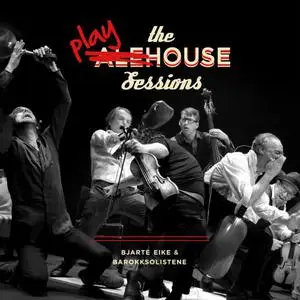 Bjarte Eike, Barokksolistene - The Playhouse Sessions (2022)
FLAC (tracks), Lossless | 66:50 | 313 Mb
Genre: Classical / Label: RUBICON
"There are some things you just can't fake. The chemistry of a group is one of those – the sparks of musical energy that fly when certain artists collide. Bjarte Eike's Barokksolistene is an alchemical miracle of an ensemble… pure musical gold", wrote Gramophone for the album entitled "The Alehouse Sessions".
Since the release of these Alehouse Sessions in 2017, and a world wide tour, Bjarte and the boys and girls have been busy on this new album which moves the alehouse project on from dour Puritanism of Cromwell's Commonwealth, to the hedonistic Restoration of Charles II, and the Glorious Revolution that saw William III and Mary II replace the unpopular James II. The alehouse musical culture developed into playhouses, and music halls, selling tickets and subscriptions. Operas, masques, dance, jesting (the first stand-up comedians maybe?) , all this prepared the way for the first public concert hall to be established. Nights in these places though would still be bawdy – stage fights, cross dressing, elements of pantomime, songs sung to popular tunes of the day, satire – always a good draw, and a good number of rustic clowns, bawdy wenches and fools thrown in for good measure! Think of these back rooms as a very English mix of Shakespeare, commedia dell arte, juggling with music by Purcell, folk tunes, and sea shanties. After the misery of the Commonwealth and Cromwell's dictatorship, the public were in the mood to party! Playhouse is your invitation to the party – enjoy!
Track List:
1. Jenny Loves, and She Confessed Too (Arr. for String Ensemble by Bjarte Eike) (5:13)
2. The Washerwoman Set (Arr. for String Ensemble by Bjarte Eike & Barokksolistene) (5:56)
3. Oft She Visits This Lone Mountain (Arr. for String Ensemble by Bjarte Eike & Barokksolistene) (2:58)
4. Over Hill, Over Dale (3:00)
5. Adagio and Glittering Queen (6:26)
6. The Three Ravens (Arr. for String Ensemble by Bjarte Eike) (3:28)
7. The Fairy Shuffle (Arr. for String Ensemble by Bjarte Eike & Barokksolistene) (3:46)
8. You Spotted Snakes; Hush No More (5:42)
9. Music For a While (3:57)
10. The Newcastle Set (6:53)
11. The Jolly Pilgrim (Arr. for String Ensemble by Bjarte Eike) (5:12)
12. Niel Gow's Lament for the Red, Red Rose (Arr. for String Ensemble by Bjarte Eike & Barokksolistene) (5:50)
13. The Willow Song (Arr. for String Ensemble by Bjarte Eike, Per Buhre, Johannes Lundberg & Helge Andreas Norbakken) (4:14)
14. Now The Night is Chased Away (1:54)
15. Can She Excuse Puck's Wrong (Arr. For String Ensemble by Bjarte Eike & Barokksolistene) (2:26)
ANALYZER: auCDtect: CD records authenticity detector, version 0.8.2
Copyright © 2004 Oleg Berngardt. All rights reserved.
Copyright © 2004 Alexander Djourik. All rights reserved.


FILE: 1. Barokksolistene - Jenny Loves, and She Confessed Too (Arr. for String Ensemble by Bjarte Eike).flac
Size: 26490641 Hash: C85D0A9583E4E413D8C315E83DFDBABD Accuracy: -m40
Conclusion: CDDA 100%
Signature: 22C1E0D2BDCA7DC71DE1ED80254084FCAE64C0F2
FILE: 10. Barokksolistene - The Newcastle Set.flac
Size: 36283725 Hash: A50A807E6766978F2CE1F8C3DE649E24 Accuracy: -m40
Conclusion: CDDA 100%
Signature: 34BC1BF2A9A8D3FA7AC4C85D8152DB5203B6C741
FILE: 11. Barokksolistene - The Jolly Pilgrim (Arr. for String Ensemble by Bjarte Eike).flac
Size: 31349922 Hash: 59E36D9518D1F946BB3706E05DB70FEE Accuracy: -m40
Conclusion: CDDA 100%
Signature: A26FFD25981D38F6543C76F8DD1105BF7CDC56DC
FILE: 12. Barokksolistene - Niel Gow's Lament for the Red, Red Rose (Arr. for String Ensemble by Bjarte Eike & Barokksolistene).flac
Size: 24537555 Hash: 10D68B921D8D8014805FFCDA6834DECC Accuracy: -m40
Conclusion: CDDA 100%
Signature: A4E2830FA02B88CCC0983E14454FBDE0E5CD5C9F
FILE: 13. Barokksolistene - The Willow Song (Arr. for String Ensemble by Bjarte Eike, Per Buhre, Johannes Lundberg & Helge Andreas Norbakken).flac
Size: 17176000 Hash: 8C2E65D446A358F15D10951F6F3015EC Accuracy: -m40
Conclusion: CDDA 100%
Signature: 136A94C0BD6FFE3BAF7378A53E84B1C8B0A1F013
FILE: 14. Barokksolistene - Now The Night is Chased Away.flac
Size: 10978151 Hash: D7415BF5F184B132A22D1E271C1CB8A6 Accuracy: -m40
Conclusion: CDDA 99%
Signature: 21AA9E5D1504EF31837DCB05CE1122E8E7DB3782
FILE: 15. Barokksolistene - Can She Excuse Puck's Wrong (Arr. For String Ensemble by Bjarte Eike & Barokksolistene).flac
Size: 11527496 Hash: 3979B6A5C799E886C6521498A7AA959A Accuracy: -m40
Conclusion: CDDA 100%
Signature: 2F869A4F44CC60E384EC2D0D6746B7BF11A58BE1
FILE: 2. Barokksolistene - The Washerwoman Set (Arr. for String Ensemble by Bjarte Eike & Barokksolistene).flac
Size: 33906399 Hash: 2B2E9F7149B15B2D1DC416774C18458C Accuracy: -m40
Conclusion: CDDA 99%
Signature: A76E218D327A052246839027C276159322851DD8
FILE: 3. Barokksolistene - Oft She Visits This Lone Mountain (Arr. for String Ensemble by Bjarte Eike & Barokksolistene).flac
Size: 15025333 Hash: 7516FC21369EC4CC5EC8AF5B1A651005 Accuracy: -m40
Conclusion: CDDA 100%
Signature: 226AB91EF7BAAB869EBE71BB1D2BA2D01F031A58
FILE: 4. Barokksolistene - Over Hill, Over Dale.flac
Size: 16802944 Hash: 321E29A850E520B125E40A75E7E77E8B Accuracy: -m40
Conclusion: CDDA 100%
Signature: A6748D3F63AF4F45027776D6EE5186118CE8CCD0
FILE: 5. Barokksolistene - Adagio and Glittering Queen.flac
Size: 31000126 Hash: 04E3B730C892F51191492ACD93E0FC5C Accuracy: -m40
Conclusion: CDDA 100%
Signature: 22C26637DE645F5184BD9D083561A923A425EED4
FILE: 6. Barokksolistene - The Three Ravens (Arr. for String Ensemble by Bjarte Eike).flac
Size: 15861791 Hash: 6302FD9A2BD73083D8EE597F084E9901 Accuracy: -m40
Conclusion: CDDA 100%
Signature: 27F064A55A7591FD6D2C60CD7BF7BC601F0773FD
FILE: 7. Barokksolistene - The Fairy Shuffle (Arr. for String Ensemble by Bjarte Eike & Barokksolistene).flac
Size: 19244579 Hash: D798B63D3E533D458719B08957CC982D Accuracy: -m40
Conclusion: CDDA 100%
Signature: 827FA43E17A0697F5F34AFCECA1BC364AB459F2F
FILE: 8. Barokksolistene - You Spotted Snakes; Hush No More.flac
Size: 24609964 Hash: CEA6E29BDBD84E43C2F178CE642BD0E6 Accuracy: -m40
Conclusion: CDDA 99%
Signature: 561799EFCF21FAF4F9B83FEB3096B8F353B1AD24
FILE: 9. Barokksolistene - Music For a While.flac
Size: 13874488 Hash: 731578324A67649E5244254F6BB62BA3 Accuracy: -m40
Conclusion: CDDA 100%
Signature: F3FF921C01CB45E127BD48849A8126D82DD1D2ED