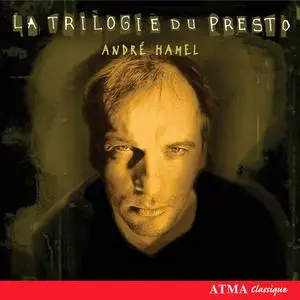 Quasar, Arte Saxophone Quartets, Julien Grégoire, Catherine Perron, Angela Tosheva, Catherine Perrin - André Hamel: La Trilogie du Presto (2007)
WEB | FLAC (tracks) - 319 MB | 01:06:55
Genre: Classical | Label: ATMA Classique
Canadian composers have managed, at least to some degree, to avoid the dichotomy between "high" and "low" art that causes so much animosity on the American new music scene; advocates of "popular" classical composers such as Glass and Adams, and of "serious" classical composers like Babbitt and Carter, tend to be divided by distrust, if not downright contempt for each other's aesthetic. Québécois composer André Hamel is one of a substantial group of Canadian composers who draws freely and productively on a variety of traditions, without embarrassment or apology. His À Huit for eight saxophones is remarkable in that it sounds like it was created almost entirely with computer-generated sonorities and not by live performers.