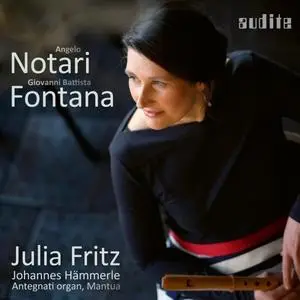 Julia Fritz & Johannes Hämmerle - Notari & Fontana (Early Baroque Music from the Basilica di Santa Barbara, Mantua) (2021)
WEB FLAC (Tracks +Booklet) 331 MB | Cover | 01:12:34| MP3 CBR 320 kbps | 176 MB
Classical | Label: audite Musikproduktion
Mantua – cultural centre of the 17th century: Claudio Monteverdi created his first operas and madrigals here, preparing the ground for the works of Giovanni Battista Fontana and Angelo Notari. Julia Fritz and her ensemble have reinterpreted their pieces in the church of Santa Barbara in Mantua, presenting an exciting panorama of musical practices at the time.
​Compared to the Italian centres of power - Milan, Florence and Rome - the Lombardian city of Mantua in the Po Valley is small in size. All the more prestigious was the commitment to the arts by the ruling Gonzaga dynasty: artists such as Andrea Mantegna, Giulio Romano and Leon Battista Alberti created lasting master­pieces in their paintings and architecture for them, whilst musicians such as Giaches de Wert and Claudio Monteverdi consolidated Mantua's reputation throughout Europe. Their stage was within the grand complex of the ducal palace and the adjoining church of Santa Barbara: an impressive synthesis of the arts consisting of Mannerist architecture and painting - and an ideal space for music.
This magical place was chosen by recorder player Julia Fritz together with organist Johannes Hämmerle, soprano Magdalene Harer and harpist Reinhild Waldek to record works by Giovanni Battista Fontana and Angelo Notari, two contemporaries of Monteverdi. Fontana's solo sonatas for violin and continuo, which Julia Fritz interprets on various recorders, belong to the canon of early baroque violin music, while the pieces by Notari, some of which are recorded here for the first time, hail from a British Library manuscript which the composer presumably produced for English music lovers in the circle of King Charles I. They are variations and arrangements of songs that demonstrate the high standard of solo and ornamental art of the time, which were as popular in Italy as in the rest of Europe.
A special feature of this recording is the interplay between a chamber music formation and the famous organ of Santa Barbara. Graziadio Antegnati, one of the great Italian organ builders of the sixteenth century, equipped the instrument with special stops and the meantone tuning of the time; following extensive restoration, it can now be admired once again in its original sound, perfectly suited not only for solo pieces but also for accompanying mixed vocal-instrumental ensembles.
Julia Fritz, recorder
Magdalene Harer, soprano
Reinhild Waldek, triple harp
Johannes Hämmerle, organ
TRACKLIST
1. Julia Fritz - Sonata seconda
2. Julia Fritz - Aria sopra il Ruggiero
3. Magdalene Harer - Aria sopra la Monica (Modi 8-10)
4. Julia Fritz - Sonata sesta
5. Julia Fritz - Sonata terza
6. Magdalene Harer - Ciaccona
7. Julia Fritz - Sonata quinta
8. Julia Fritz - Aria sopra la Romanesca
9. Magdalene Harer - Ancor che col partire
10. Julia Fritz - Canzone passaggiata
11. Julia Fritz - Sonata prima
12. Julia Fritz - Aria sopra la Monica (Modi 1-7)
13. Julia Fritz - Gagliarda (Digital Bonus Track)
14. Julia Fritz - Sonata quarta
15. Johannes Hammerle - Toccata
–––––––––––-
DON'T MODIFY THIS FILE
–––––––––––-
PERFORMER: auCDtect Task Manager, ver. 1.6.0 RC1 build 1.6.0.1
Copyright © 2008-2010 y-soft. All rights reserved
http://y-soft.org
ANALYZER: auCDtect: CD records authenticity detector, version 0.8.2
Copyright © 2004 Oleg Berngardt. All rights reserved.
Copyright © 2004 Alexander Djourik. All rights reserved.
FILE: 15 - Toccata.flac
Size: 19281381 Hash: D2B32F516559885297B845EA45196EB9 Accuracy: -m0
Conclusion: ???
Signature: 09D5C9397DD262872EB48BE8CE0CD9F3688A81FC
FILE: 14 - Sonata quarta.flac
Size: 19924242 Hash: 3453243A5E034F7967947A71355B148A Accuracy: -m0
Conclusion: CDDA 87%
Signature: FAAA7EB26E7A5A361EAB82CFDCC64496FBA1642F
FILE: 13 - Gagliarda (Digital Bonus Track).flac
Size: 3622817 Hash: DE5D3C9F9E88AA60F59C7970B539829E Accuracy: -m0
Conclusion: CDDA 43%
Signature: 72486A3ADDD3702A5866067A10B70F78DF695BFF
FILE: 12 - Aria sopra la Monica (Modi 1-7).flac
Size: 27898368 Hash: D67BC811BE417B3A6BEFAEEAE43612C9 Accuracy: -m0
Conclusion: CDDA 100%
Signature: D5584BE535B5F85FE921C37A61876A1B83958900
FILE: 11 - Sonata prima.flac
Size: 14876690 Hash: C569FBBD3DF16B1D65B4B334F3EA1704 Accuracy: -m0
Conclusion: CDDA 100%
Signature: 0D92E0E9AD09B272B257E1C01A4D90E08ED88B47
FILE: 10 - Canzone passaggiata.flac
Size: 24950172 Hash: 316B0B2ABD2AB7ADD51A7D7AF48E8DC5 Accuracy: -m0
Conclusion: CDDA 86%
Signature: 50BB25B88C400B4DE8FD6235D642A493B288CB17
FILE: 09 - Ancor che col partire.flac
Size: 17923536 Hash: 72C97DAEB7152F709720F489C3D98D2F Accuracy: -m0
Conclusion: CDDA 100%
Signature: DAAF4392E4F53CB8A898533ED7C8430AA20CC861
FILE: 08 - Aria sopra la Romanesca.flac
Size: 31495382 Hash: 49266EC719363441AADB79D8F73A341A Accuracy: -m0
Conclusion: CDDA 94%
Signature: A01960086B928CE8DB35A704B016A0E5E161478E
FILE: 07 - Sonata quinta.flac
Size: 22817831 Hash: 39960FD0E38CD5EBE0B9A63A09240D68 Accuracy: -m0
Conclusion: CDDA 99%
Signature: A5CE1FCEB9C80186ED4C765D83AE06679E738DF5
FILE: 06 - Ciaccona.flac
Size: 16081866 Hash: FA20791FE01402C2BDB7F76A4B1B750A Accuracy: -m0
Conclusion: CDDA 100%
Signature: A05D1A86E65E61A35F0D3A39594D7E7D7AD5E814
FILE: 05 - Sonata terza.flac
Size: 20840836 Hash: 536ED0188B1F988CB32CBE457458E73E Accuracy: -m0
Conclusion: CDDA 100%
Signature: D9F9954AE21FC7837F9B113DADA17135D7F8CFD0
FILE: 04 - Sonata sesta.flac
Size: 28029338 Hash: 8DD679338BC2CCA4DAFD2DA3C5AE0B44 Accuracy: -m0
Conclusion: CDDA 94%
Signature: 0C7EAE509DE0B2D9044029D8211E7542F67C49EB
FILE: 03 - Aria sopra la Monica (Modi 8-10.flac
Size: 21810791 Hash: E9A5993DC2977FD3B92AB21F5736BC4E Accuracy: -m0
Conclusion: CDDA 100%
Signature: 45AE9833E76FE8B1226AC68053A5AA74F3C6843B
FILE: 02 - Aria sopra il Ruggiero.flac
Size: 37726455 Hash: 2656C70D6FEC22EB3C9F518A6FC5D4DE Accuracy: -m0
Conclusion: CDDA 100%
Signature: 57262DCCBA0246BBFB925CE5C853CB9508DAB9A4
FILE: 01 - Sonata seconda.flac
Size: 30221779 Hash: C7CF3983B920135F7DD8696D3F0555A3 Accuracy: -m0
Conclusion: CDDA 62%
Signature: A369E39462E71F4016B1B698EDB6B20068462882