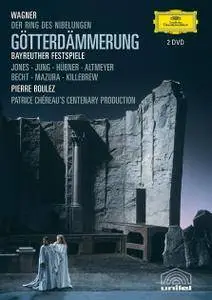 Pierre Boulez, Orchester der Bayreuther Festspiele - Wagner: Götterdämmerung (2005/1980)
NTSC 4:3 (720x480) | Deutsch (LinearPCM, 2 ch) | (DTS, 6 ch) | 7.42 Gb+7.86 Gb (2xDVD9) | 248 min
Classical | Deutsche Grammophon | Sub: Deutsch, English, Francais, Espanol, Chinese
In 1976 French director Patrice Chéreau's cenentenary staging of Wagner's "Ring"-Cycle unleashed the greatest scandal in Bayreuth Festival history but, by the end of its last performance in 1980, this epoch-making production was acclaimed with an hour and a half of thunderous applause. "Götterdämmerung presents a world in which no values exist any more. The only refuge is in the past" (Chateau). "The videotaped Bayreuth Ring succeed triumphantly."
Cast:
Siegfried - Manfred Jung
Gunther - Franz Mazura
Alberich - Hermann Becht
Hagen - Fritz Hübner
Brünnhilde - Gwyneth Jones
Guntrune - Jeannie Altmeyer
Waltraute - Gwendolyn Killebrew
1. Norn - Ortrum Wenkel
2. Norn - Gabriele Schnaut
3. Norn - Katie Clarke
Woghilde - Norma Sheep
Wellgunde - Ilse Gramatzki
Flosshilde - Marga Schmil
Chor der Bayrether Festspiele
Orchester der Bayreuther Festspiele
Conductor - Pierre Boulez

DVD 1:
01. Titles
Prologue
02. "Welch Licht leuchtet dort?"
03. Orchesterzwischenspiel (Tagesanbruch)
04. "Zu neuen Taten, teurer Helde"
05. Siegfrieds Rheinfahrt
Erster Aufzug
06. Nun hör, Hagen
07. Wer ist Gibichs Sohn?
08. Deinem Bruder bot ich mich zum Mann
09. Hier sitz'ich zur Wacht
10. Altgewohntes Geräusch
11. Höre mit Sinn, was ich dir sage!
12. Welch banger Träume Mären
13. Brünnhild'! Ein Freier kam
DVD 2:
Zweiter Aufzug
01. Schläfst du, Hagen, mein Sohn?
02. Hoiho, Hagen!
03. Hoiho! Hoihohoho!
04. Brünnhild', die hehrste Frau
05. Einen Ring sah ich an deiner Hand
06. Helle Wehr! Heilige Waffe!
07. Welches Unholds List liegt hier verhohlen?
Dritter Aufzug
08. Vorspiel - Frau Sonne sendet lichte Strahlen
09. Siegfried! Was schiltst du so in den Grund?
10. Hoiho!
11. Mime hieß ein mürrischer Zwerg
12. Brünnhilde, heilige Braut!
13. Trauermarsch
14. War das sein Horn?
15. Schweigt eures Jammers
16. Starke Scheite schichtet mir dort
17. Züruck vom Ring!