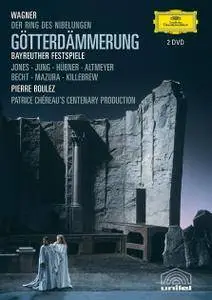 Pierre Boulez, Orchester der Bayreuther Festspiele - Wagner: Götterdämmerung (2005/1980)
NTSC 4:3 (720x480) | Deutsch (LinearPCM, 2 ch) | (DTS, 6 ch) | 7.42 Gb+7.86 Gb (2xDVD9) | 248 min
Classical | Deutsche Grammophon | Sub: Deutsch, English, Francais, Espanol, Chinese
In 1976 French director Patrice Chéreau's cenentenary staging of Wagner's "Ring"-Cycle unleashed the greatest scandal in Bayreuth Festival history but, by the end of its last performance in 1980, this epoch-making production was acclaimed with an hour and a half of thunderous applause. "Götterdämmerung presents a world in which no values exist any more. The only refuge is in the past" (Chateau). "The videotaped Bayreuth Ring succeed triumphantly."