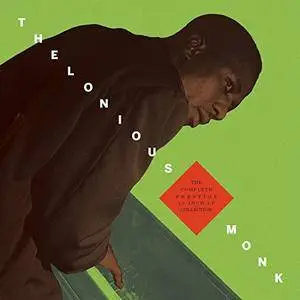 Thelonious Monk - The Complete Prestige 10-Inch LP Collection (2017)
FLAC (tracks) 24-bit/192 kHz | Time - 112:12 minutes | 4,20 GB
Studio Master, Official Digital Download | Artwork: Digital Booklet
Celebrating 100 years of Thelonious Monk: includes A Collective Personnel Of: Sonny Rollins, Art Blakey, Max Roach, Gary Mapp, Julius Watkins, Percy Heath, Willie Jones, Ray Copeland, Frank Foster, Curly Russell, Tommy Potter And Art Taylor. Craft Recordings, the Catalog Division of Concord Music, is proud to announce the release of Thelonious Monk's The Complete Prestige 10-Inch LP Collection. Due out December 15th, the limited-edition album set includes all five of the 10" vinyl LPs which the pianist recorded for the jazz label, spanning 1952 to 1954.
The audio has been carefully restored and remastered by Joe Tarantino from the original analog tapes. Rounding out the collection is a booklet with new liner notes by Robin D. G. Kelley, author of Thelonious Monk: The Life and Times of an American Original.
Thelonious Sphere Monk (1917-1982), who would have turned 100 this year, remains one of the most highly regarded jazz artists in history, known for his unique style on and off the piano. Monk was a rule-breaker, pushing the limits of his genre, with his dissonant chords, unconventional melodies and progressive rhythms. Initially dismissed an eccentric by the musical elite, Monk stood his ground, and came to be celebrated for his complexities; considered by many to be a genius.
However, in the early '50s, the artist was still struggling to find critical and commercial acceptance. In his liner notes, Robin D. G. Kelley refers to this era as the "golden years in terms of [Monk's] creative output" but, he adds, "these were also dark times." Following an unjust run-in with the law, the jazz musician's cabaret card was revoked, preventing him from performing at New York clubs, and restricting his income. The artist's fortune began to change, though, in 1952, whenPrestige Records' founder Bob Weinstock offered Monk a recording contract. Weeks later, the Thelonious Monk Trio ̶ consisting of Art Blakey (as well as Max Roach on select tracks) on drums and Gary Mapp on bass, went to work in the studio, with a young Ira Gitler as producer. The resulting 10-inch LP release wasThelonious. By the fall of 1953, Monk returned to the studio, this time with a quintet, for Thelonious Monk Quintet Blows For LP, featuring Sonny Rollins on tenor saxophone. Thelonious Monk Quintetand Thelonious Plays followed in 1954. In the final 10-inch LP in this collection, recorded in October of 1954, Monk was actually a last-minute replacement for Elmo Hope at a Sonny Rollins session. But he ultimately received co-billing on the resultant 10" LP release, Sonny Rollins and Thelonious Monk. Also produced by Gitler, the LP includes an 11-minute jam of Vincent Youmans' "More Than You Know" which, as Kelley puts it, became "the session's masterpiece, a sublime dialogue between two great masters of modern music."
These early albums in The Complete Prestige 10-Inch LP Collection offer an intriguing look into this distinctive and resolute artist before he found full acclaim and acceptance, and feature an impressive collective personnel that includes some of jazz's finest. "Listening to these tracks more than sixty years after they were recorded, it's stunning how compelling, modern and original Monk's music still sounds, even through the filter of 21st-century ears," observes the collection's producer, Nick Phillips. "That's the mark of a true musical genius, indeed."
Tracklist:
CD1 Thelonious Monk Trio:
01. Little Rootie Tootie
02. Sweet And Lovely
03. Bye-Ya
04. Monk's Dream
05. Trinkle, Tinkle
06. These Foolish Things
07. Bemsha Swing
08. Reflections
foobar2000 1.3.7 / Dynamic Range Meter 1.1.1
log date: 2017-12-21 16:00:32

––––––––––––––––––––––––––––––––––––––––
Analyzed: Thelonious Monk Trio / The Complete Prestige 10-Inch LP Collection
––––––––––––––––––––––––––––––––––––––––

DR Peak RMS Duration Track
––––––––––––––––––––––––––––––––––––––––
DR9 -0.10 dB -10.70 dB 3:08 01-Little Rootie Tootie
DR10 -0.10 dB -11.52 dB 3:37 02-Sweet And Lovely
DR10 -0.10 dB -11.41 dB 2:48 03-Bye-Ya
DR9 -0.10 dB -10.48 dB 3:08 04-Monk's Dream
DR9 -0.10 dB -10.87 dB 2:52 05-Trinkle, Tinkle
DR8 -0.10 dB -10.26 dB 2:49 06-These Foolish Things
DR9 -0.10 dB -10.58 dB 3:12 07-Bemsha Swing
DR10 -0.10 dB -10.94 dB 2:50 08-Reflections
––––––––––––––––––––––––––––––––––––––––

Number of tracks: 8
Official DR value: DR9

Samplerate: 192000 Hz
Channels: 2
Bits per sample: 24
Bitrate: 5526 kbps
Codec: FLAC
================================================================================
CD 2 Thelonious Monk Quintet:
01. Friday The Thirteenth
02. Let's Call This
03. Think Of One
foobar2000 1.3.7 / Dynamic Range Meter 1.1.1
log date: 2017-12-21 16:03:46

––––––––––––––––––––––––––––––––––––––––
Analyzed: Thelonious Monk Quintet / The Complete Prestige 10-Inch LP Collection
––––––––––––––––––––––––––––––––––––––––

DR Peak RMS Duration Track
––––––––––––––––––––––––––––––––––––––––
DR10 -1.09 dB -13.48 dB 10:32 01-Friday The Thirteenth
DR11 -0.10 dB -12.83 dB 5:08 02-Let's Call This
DR10 -0.10 dB -11.58 dB 5:47 03-Think Of One
––––––––––––––––––––––––––––––––––––––––

Number of tracks: 3
Official DR value: DR10

Samplerate: 192000 Hz
Channels: 2
Bits per sample: 24
Bitrate: 5558 kbps
Codec: FLAC
================================================================================
CD 3 Thelonious Monk Quintet:
01. We See
02. Smoke Gets In Your Eyes
03. Locomotive
04. Hackensack
foobar2000 1.3.7 / Dynamic Range Meter 1.1.1
log date: 2017-12-21 16:06:52

––––––––––––––––––––––––––––––––––––––––
Analyzed: Thelonious Monk Quintet / The Complete Prestige 10-Inch LP Collection
––––––––––––––––––––––––––––––––––––––––

DR Peak RMS Duration Track
––––––––––––––––––––––––––––––––––––––––
DR12 -0.10 dB -14.28 dB 5:16 01-We See
DR13 -0.10 dB -15.37 dB 4:34 02-Smoke Gets In Your Eyes
DR11 -0.10 dB -12.52 dB 6:24 03-Locomotive
DR10 -0.10 dB -12.85 dB 5:14 04-Hackensack
––––––––––––––––––––––––––––––––––––––––

Number of tracks: 4
Official DR value: DR12

Samplerate: 192000 Hz
Channels: 2
Bits per sample: 24
Bitrate: 5459 kbps
Codec: FLAC
================================================================================
CD 4 Thelonious Monk:
01. Work
02. Nutty
03. Blue Monk
04. Just A Gigolo
foobar2000 1.3.7 / Dynamic Range Meter 1.1.1
log date: 2017-12-21 16:09:51

––––––––––––––––––––––––––––––––––––––––
Analyzed: Thelonious Monk / The Complete Prestige 10-Inch LP Collection
––––––––––––––––––––––––––––––––––––––––

DR Peak RMS Duration Track
––––––––––––––––––––––––––––––––––––––––
DR10 -0.10 dB -12.59 dB 5:19 01-Work
DR11 -0.10 dB -13.02 dB 5:18 02-Nutty
DR14 -0.10 dB -16.23 dB 7:40 03-Blue Monk
DR14 -0.10 dB -16.11 dB 3:05 04-Just A Gigolo
––––––––––––––––––––––––––––––––––––––––

Number of tracks: 4
Official DR value: DR12

Samplerate: 192000 Hz
Channels: 2
Bits per sample: 24
Bitrate: 5143 kbps
Codec: FLAC
================================================================================
CD 5 Sonny Rollins:
01. The Way You Look Tonight
02. I Want To Be Happy
03. More Than You Know
foobar2000 1.3.7 / Dynamic Range Meter 1.1.1
log date: 2017-12-21 16:14:11

––––––––––––––––––––––––––––––––––––––––
Analyzed: Sonny Rollins / The Complete Prestige 10-Inch LP Collection
––––––––––––––––––––––––––––––––––––––––

DR Peak RMS Duration Track
––––––––––––––––––––––––––––––––––––––––
DR11 -0.26 dB -12.97 dB 5:14 01-The Way You Look Tonight
DR12 -0.68 dB -13.95 dB 7:43 02-I Want To Be Happy
DR14 -0.20 dB -15.82 dB 10:49 03-More Than You Know
––––––––––––––––––––––––––––––––––––––––

Number of tracks: 3
Official DR value: DR12

Samplerate: 192000 Hz
Channels: 2
Bits per sample: 24
Bitrate: 5246 kbps
Codec: FLAC
================================================================================
All thanks go to the original releaser