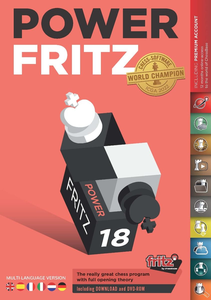 Power Fritz 18 v18.11 Multilingual | 1.6 GB
Includes Fritz Powerbook 2022, Strongbook 2022, Corrbook 2022
Languages: English, Deutsch, Español, Français, Italiano
Fritz has fascinated the chess world for 30 years. And the success story continues. In Vienna, the most popular chess program ever was once again able to underline its premier position: the newly developed neural engine with NNUE technology won the official Chess Software World Championship! With Power Fritz 18 you have the world champion program on your PC.