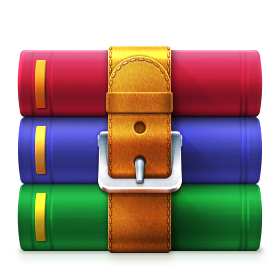 WinRAR 5.90 Multilingual + Portable | ~12 MB
Languages: العربية, Հայերէն, Български, Català, 简体中文, 繁體中文, Čeština, Dansk, Deutsch, Español,
Euskara, Français, Galego, עברית, Hrvatski, Bahasa Indonesia, 日本語, 한국어, Lietuvių kalba, Magyar,
Монгол хэл, Nederlands, فارسی, Polski, Português, Português do Brasil, Română, Русский, Српски,
Suomi, Slovenčina, Slovenščina, Svenska, ภาษาไทย, Türkçe, Українська
WinRAR is a powerful archive manager. RAR files can usually compress content by 8 percent to 15 percent more than ZIP files can. WinRAR is a powerful compression tool with many integrated additional functions to help you organize your compressed archives. It can backup your data and reduce size of email attachments, decompress RAR, ZIP and other files downloaded from Internet and create new archives in RAR and ZIP file format.
Features of WinRAR:
Using WinRAR puts you ahead of the crowd when it comes to compression by consistently making smaller archives than the competition, saving disk space and transmission costs.
WinRAR provides complete support for RAR and ZIP archives and is able to unpack CAB, ARJ, LZH, TAR, GZ, ACE, UUE, BZ2, JAR, ISO, 7Z, Z archives.
WinRAR offers a graphic interactive interface utilizing mouse and menus as well as the command line interface.
WinRAR is easier to use than many other archivers with the inclusion of a special "Wizard" mode which allows instant access to the basic archiving functions through a simple question and answer procedure. This avoids confusion in the early stages of use.
WinRAR offers you the benefit of industry strength archive encryption using AES (Advanced Encryption Standard) with a key of 128 bits.
WinRAR supports files and archives up to 8,589 billion gigabytes in size. The number of archived files is, for all practical purposes, unlimited.
WinRAR offers the ability to create selfextracting and multivolume archives.
Recovery record and recovery volumes allow to reconstruct even physically damaged archives.
WinRAR features are constantly being developed to keep WinRAR ahead of the pack.
What's new in Version 5.90
1. RAR compression speed is improved for CPUs with 16 and more cores.
2. "Fastest" method (-m1 command line equivalent) typically achieves a higher compression ratio for highly compressible data types when creating RAR5 archives.
3. Maximum number of utilized threads is increased from 32 to 64. Command line -mt<threads> switch accepts values from 1 to 64.
4. "Multithreading" parameter on "General" page of WinRAR settings is replaced with "Threads" input field, where you can specify the desired number of CPU threads. It can take values from 1 to maximum number of available logical CPU units.
5. WinRAR displays packed and unpacked folder sizes when browsing archive contents.
6. "Total folders" field is added to list of archive parameters displayed by WinRAR "Info" command. Same field is added to "Archive" page in archive properties in Windows Explorer.
7. Window including a progress bar and "Cancel" button is displayed if reading archive contents takes noticeable time. It can be useful for archive formats with slower access to contents, such as large TAR based archives like .tar.gz and tar.bz2.
8. Archiving and extraction progress windows, also as progress windows for some other commands, can be resized.
9. "Repair" performance for RAR5 archives with recovery record and without data shifts is improved. It deteriorated in WinRAR 5.80 and is now restored to original level.
10. Password prompt is not issued when performing recovery record based repair for RAR5 archives with encrypted file names. This command can be performed without providing a password.
11. If folder for converted archives in "Convert archives" command does not exist, WinRAR attempts to create it. Previous versions failed to create converted archives in non-existent destination folder.
12. Added extraction support for GZIP archives with optional header checksum field.
13. Bugs fixed:
a) "Repair" command could erroneously display "Recovery record is corrupt" message when processing an archive with valid recovery record. This message did not prevent further repair operation;
b) if quick open information option was set to "Do not add" in default compression profile and this profile was loaded by some command or dialog, WinRAR ignored quick open information when browsing contents of RAR archives. For example, it happened after opening archiving or password dialogs;
c) Ctrl+C "Copy" shortcut key did not work in archive comment window;
d) if "Put each file to separate archive" and "Archives in subfolders" options were set, WinRAR ignored the destination path specified in archive name field.