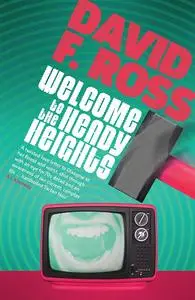 Welcome to the Heady Heights by David F. Ross
English | October 1, 2019 | ISBN: 1912374617 | True EPUB | 276 pages | 0.5 MB
A little man with big ideas attempts to find TV fame with an unruly group of young singers, in a gritty, dark, hilarious and all-too-believable drama about the elusivity of stardom, in an age when 'making it' was 'having it all'…
'A real new talent on the Scottish literary scene' Press & Journal
'Ross brings his ever-so-dark humour and caustic eye to 1970s Glasgow, and it proves to be the perfect pairing' Alistair Braidwood
'David Ross carved out an enduring place for himself among contemporary Scottish novelists' Alastair Mabb, Herald Scotland
'This is hardboiled tartan noir with a musical edge, streetwise intelligence and exactly the sense of humour you'd hope to find as showbiz meets Duke Street and high society enforcers battle gentlemen of the Sarry Heid and graduates of the Bar L' A L Kennedy
––––––––––––––––––––––––
Welcome to the Heady Heights …
It's the year punk rock was born, Concorde entered commercial service and a tiny Romanian gymnast changed the sport forever.
Archie Blunt is a man with big ideas. He just needs a break for them to be realised. In a bizarre brush with the light-entertainment business, Archie unwittingly saves the life of the UK's top showbiz star, Hank 'Heady' Hendricks', and now dreams of hitting the big-time as a Popular Music Impresario.
Seizing the initiative, he creates a new singing group with five unruly working-class kids from Glasgow's East End. Together, they make the finals of a televised Saturday-night talent show, and before they know it, fame and fortune beckon for Archie and The High Five. But there's a complication; a trail of irate Glaswegian bookies, corrupt politicians and a determined Scottish WPC known as The Tank are all on his tail…
A hilarious and poignant nod to the elusivity of stardom, in an age when 'making it' was 'having it all', Welcome to the Heady Heights is also a dark, laugh-out-loud comedy, a heart-warming tribute to a bygone age and a delicious drama about desperate men, connected by secrets and lies, by accidents of time and, most of all, the city they live in.