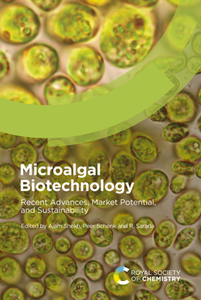 Microalgal Biotechnology : Recent Advances, Market Potential, and Sustainability
by Ajam Shekh, Peer Schenk
English | 2021 | ISBN: 1839160039 | 471 Pages | True PDF | 12 MB
Microalgae are a group of single-celled, photosynthetic microorganisms. They are of great commercial interest as they are capable of producing biomass (with a vast array of biochemical) using sunlight, CO2 and various other naturally occurring nutrients. Correctly utilised, they have the potential to provide sustainable supply of commercially relevant biochemicals, biofuels, nutraceuticals, food and feed supplements. The field of microalgal biotechnology is a fast-paced area of research, with technologies coming ever closer to commercial viability.
Microalgal Biotechnology consolidates the latest research in the field together with a look at market potential and policy considerations. Highlighting the huge potential of microalgae as commercial commodities, it covers progress on various fronts including; bio-refinery and its technological challenges, genetic engineering, biosafety and regulatory issues, open and closed photo-bioreactors for biomass production, market space and sustainability for algal products.
This book is a useful resource for researchers, academicians, postgraduate students, industries, policy makers and anyone interested in the status and future possibilities of microalgae commercialisation.