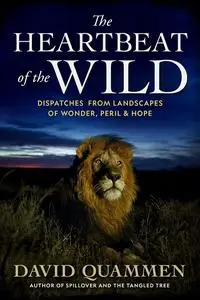 The Heartbeat of the Wild: Dispatches from Landscapes of Wonder, Peril, and Hope by David Quammen
English | May 16, 2023 | ISBN: 1426222076 | True EPUB | 352 pages | 2.8 MB
In this inspiring collection of essays, acclaimed author David Quammen journeys to places where civilization meets raw nature and explores the challenge of balancing the needs of both.
For more than two decades, award-winning science and nature writer David Quammen has traveled to Earth's most far-flung and fragile destinations, sending back field notes from places caught in the tension between humans and the wild. This illuminating book features 20 of those assignments: elegantly written narratives, originally published in National Geographic magazine and updated for today, telling colorful and impassioned stories from some of the planet's wildest locales.
Quammen shares encounters with African elephants, chimpanzees, and gorillas (and their saviors, including Jane Goodall); the salmon of northeastern Russia and the people whose livelihood depends on them; the lions of Kenya and the villagers whose homes border on parks created to preserve the species; and the champions of rewilding efforts in southernmost South America, designed to rescue iconic species including jaguars and macaws.
With a new introduction, afterword, and notes framing each story, Quammen reminds us of the essential role played by wild nature at the heart of the planet.