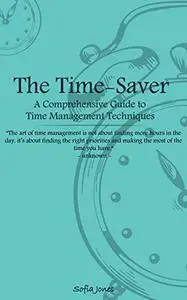 The Time-Saver: A Comprehensive Guide to Time Management Techniques by Sofia Jones
English | 2022 | ISBN: N/A | ASIN: B0BRH9JRTC | 73 pages | MOBI | 6.80 Mb
The Time-Saver: A Comprehensive Guide to Time Management Techniques
"The Time-Saver is a comprehensive guide to time management techniques that will help you make the most of your day. In this eBook, you'll learn how to set clear goals, prioritize tasks, and eliminate distractions in order to achieve maximum productivity. You'll also discover practical strategies for managing your time effectively, such as using calendars and to-do lists, delegating tasks, and setting boundaries. Whether you're a busy professional, a student, or a stay-at-home parent, this eBook will provide you with the tools you need to take control of your time and get more done. With easy-to-follow tips and real-life examples, The Time-Saver is the ultimate resource for anyone looking to increase their efficiency and get ahead."
Benefits of "The Time-Saver: A Comprehensive Guide to Time Management Techniques"
Improved productivity and efficiency
Increased ability to focus and concentrate
Greater control over your schedule and workload
Reduced stress and anxiety
Increased time for rest and relaxation
Improved work-life balance
Greater success in achieving personal and professional goals
Enhanced ability to prioritize tasks and make informed decisions
Improved communication and collaboration with others
Increased satisfaction and enjoyment in work and other areas of life
And so much more!
Interested? Then take a look inside the book and convince yourself of our concept. (For mobile devices, please set the desktop view in the browser, then the look inside feature also works).
Feel Free to contact me for book requests, informations or feedbacks.
Without You And Your Support We Can't Continue
Thanks For Buying Premium From My Links For Support