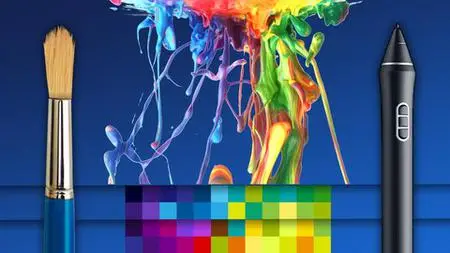 Photoshop For Digital Art: The Complete Course
Last updated 10/2022
MP4 | Video: h264, 1920x1080 | Audio: AAC, 44.1 KHz
Language: English | Size: 1.02 GB | Duration: 1h 21m
Learn how to use Photoshop to draw and paint, understand the software and the tools you need to create today
What you'll learn
Draw and Paint in Digital Art Software
Understand the Digital Canvas and Workspace
Utilise Brushes, Selections, Colour Pickers and more
Understand and Use layers to your advantage
Gain Insight into Core Features of Digital Art Software
Learn Quickly and Efficiently
How to use Photoshop fundamentals
Apply the fundamentals in Clip Studio Paint
Apply the fundamentals in Krita
Apply the fundamentals in Paint Tool Sai
Apply the fundamentals in Corel Painter
Apply the fundamentals in Procreate
Apply the fundamentals in Gimp
Requirements
Students should ideally have an existing digital art application to practice with
Art applications include Adobe Photoshop, Corel Painter, Autodesk Sketchbook Pro, Clip Studio Paint, and more
Students should also have a Drawing Tablet, such as a Wacom Intuos
Description
Before you can even start to draw and paint digitally, you need to know the tools. Join over 300,000 students already learning in my art courses, and let me show you how to grasp digital art today.Photoshop for Digital Art: The Complete Course covers the core knowledge and practical theory you need to know in order to utilize digital art software and hardware to create artwork digitally. Most digital art software share a number of core features, and using Adobe Photoshop as a base, this course will get you up to speed on the tools and the techniques of digital art creation. If you're new to digital art, and want to learn how to draw and paint in digital art software, this course is for you!understanding Photoshop will help you understand how to use a plethora of digital art apps, including: Krita, Paint Tool Sai, Clip Studio Paint, Autodesk Sketchbook, GIMP, ProCreate, Medibang Paint and more - this course helps you understand the fundamentals of using digital art tools.Master The Essentials Needed to Draw and Paint In Digital Art SoftwareUnderstand both the hardware and software required to create digital artLearn the core features of digital art software, and how to use themGet to grips with the digital canvas, navigation, color panels, tools and moreGain insight into brushes, layers, layer modes, selections and more!Learn How To Use Photoshop to Draw and Paint DigitallyIf you've never Photoshop before and you'd love to learn, I'd love to teach you. Getting to grips with Photoshop for art creation and the digital art process is easier than you think, and when you're done, you should be able to approach most modern digital art packages with confidence.Many of the features of art software are shared, such as brushes, selections, layers, color panels, swatches, and much more. In this easy to follow course, I go step-by-step into the digital process - from what hardware tools you'll need, to creating a digital canvas, resolutions and paper sizes, using and adjusting brushes, layers and layer features and much more to draw and paint effectively.What's more, I'll have you up to speed in no time - lessons that are to the point will have you learning the fundamental tools and techniques.Let's get started!
Overview
Section 1: Introduction
Lecture 1 Introduction to Digital Art Tools Essentials
Lecture 2 A Brief Overview of Hardware & Software
Lecture 3 Updates, Community and Resources
Section 2: Understanding the Digital Canvas
Lecture 4 General Overview: Art Application Menus
Lecture 5 General Overview: Tools in Art Applications
Lecture 6 General Overview: Art Application Palettes
Lecture 7 Canvas Size and Resolution Settings
Lecture 8 General Art Canvas Setup
Lecture 9 Canvas Navigation, Rotation and Zooming
Lecture 10 Have Questions?
Section 3: Understanding How Layers Work
Lecture 11 Understanding Layers
Lecture 12 Layer Opacity and Layer Modes
Lecture 13 Layer Modes: Multiply, Screen and Overlay
Lecture 14 Locking Layer Transparency
Section 4: The Essentials of Digital Brushes
Lecture 15 What are Brushes?
Lecture 16 Brush Edges and Sizing
Lecture 17 Essential Brush Settings: Opacity, Flow, Spacing & Pen Pressure
Lecture 18 Core Skill: Blending Using the Colour Picker
Lecture 19 Using the Eraser Tool
Lecture 20 The Colour Picker: Choosing your Hue, Value and Saturation
Section 5: Selection and Transformation Tools
Lecture 21 Understanding and Using Selections
Lecture 22 Understanding and Using Transformation
Lecture 23 Understanding and Using Warp
Section 6: Conclusion
Lecture 24 A Review of What We've Learned
Lecture 25 Conclusion to the Course
This Digital Art Tools course is for those new to digital art software, who have never used it before, or have only used it very little,This course offers those new to digital art the opportunity to quickly get to grips with Digital Art Tools,If you're interested in getting into digital art, but have no idea or experience in how the software or hardware tools work, this course is for you