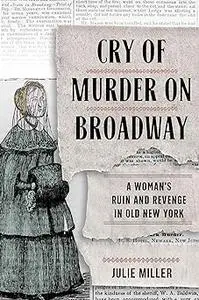 Julie Miller, "Cry of Murder on Broadway: A Woman's Ruin and Revenge in Old New York"
English | ISBN: 1501751484 | 2020 | 280 pages | PDF | 9 MB
In Cry of Murder on Broadway, Julie Miller shows how a woman's desperate attempt at murder came to momentarily embody the anger and anxiety felt by many people at a time of economic and social upheaval and expanding expectations for equal rights.
On the evening of November 1, 1843, a young household servant named Amelia Norman attacked Henry Ballard, a prosperous merchant, on the steps of the new and luxurious Astor House Hotel. Agitated and distraught, Norman had followed Ballard down Broadway before confronting him at the door to the hotel. Taking out a folding knife, she stabbed him, just missing his heart.
Read more