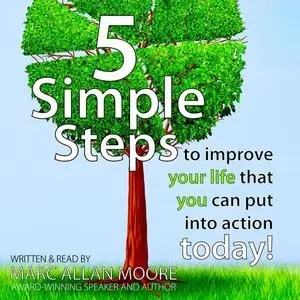 «Five Simple Steps to Improve Your Life that You Can Put Into Action Today!» by Marc Allan Moore
English | MP3@192 kbps | 55 min | 76.3 MB
In today's world of constant stimulation, turmoil, and change, many people lose sight of what we need to do to move our lives in the right direction.
What worked for previous generations may not work today, and when traditional means of coping fail us, it's easy to feel lost at sea, rudderless, and without means to find your way back to a place of normalcy.
With 5 Simple Steps to Improve Your Life, you can make the changes you need to make to get your life headed in the right direction in less than twenty-four hours.
Featuring proven methods that are certain to produce positive results, this book offers helpful advice that has been demonstrated to produce positive results consistently, no matter what your current situation may be, without expensive investment of either your time or finances.
Stop making excuses, start making changes, and get your life back on track today using the 5 Simple Steps to Improve Your Life contained in this book—right now!