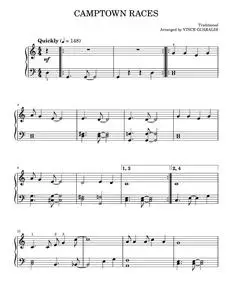 Camptown Races - Lee Mendelson, Vince Guaraldi (Easy Piano)
English | 2 pages | PDF | 0.4 MB
This sheet music contains two pages of music for the traditional song "Camptown Races" arranged for easy piano by Vince Guaraldi. The song is in two keys, C major and A minor, and comprises 30 measures total. It is suitable for intermediate pianists and is a great choice for any fan of Vince Guaraldi.