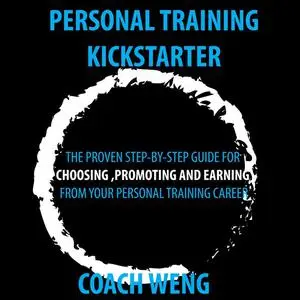 «Personal Trainer Kick Starter -Learn How To Start , Build & Grow Your Training Career» by Wenghonn Kan
English | MP3@192 kbps | 1h 23m | 114.6 MB
This personal training career course is based on my experience in the fitness industry(more than 8 years) ,from a normal trainer that do not earn much , to a team leader and promoted to a management team .I am now a sports performance coach for my country .
I was with the biggest fitness chain in Malaysia for about 5 years , and i moved to a smaller private gym , then to freelancing and now a sports performance coach . The place that i learn the most from training skills to business skills, is when im with the commercial gym . And i strongly recommend people to start from commercial gym ,especially rookies , as you will learn tonnes of new skills and people, in commercial gym compare to small private gym . 
I make tonnes of mistakes when i just started my career . I only pick things up and start earning after 3 years of working . I really wish that i would have someone to hold my hand , guide me when i just started my career, so that i do not need to waste time on cracking the code to make things happen .
In this course you will learn about :
1) ENROLL TO THE RIGHT CERTIFICATION .
we are going to look at different organization and their certification.
It is all about laying the foundations works.
2) CHOOSING THE RIGHT PLACE TO SUCCESS IN PERSONAL TRAINING
I will also guide you on choosing where you should start your personal training career . 
When you have a good start in your career, you will be able to move faster that those dont, and you could achieve more than faster than the rest.
3)HOW TO NAME , POSITION & PRICE YOUR PERSONAL TRAINING PROGRAMME TO BE FREAKIN" IRRESISTIBLE.
It is all about the foundations in these few modules. very important .
4)OVERCOMING OBSTACLES WITHOUT A SWEAT
When come to selling , people will not swipe their credit card and buy from you just like that.
I will show you , great tricks that able to make your training programme sell like hot cake.
5)PLAN LIKE A CHAMP .THE MOST EFFECTIVE WAY OF PLANNING AND DESIGNING YOUR TRAINING PROGRAMMEAND PERSENTATION THAT SELL(TO GET THE BEST RESULT).
and we are going to talk about planning.The easiest way for creating your training programme.
and 3 simple steps to create a money generating presentation to get the best result . all very logical stuff.
6)RESULT BASED MASTER EXERCISE PLAN AND APPS
I will also share how to can design and plan a result based training programme at the shortest time and also simple apps that 
able to keep track on your business.
This course is exactly what you need to know to start a successful personal training career. I plan and set everything up in a way that you can easily understand . Personal training is just the beginning of the career . There are lot more options that you can choose from . Plan your career well and take action to pursue your dream .
BONUS INCLUDED!!
In this bonus session you are going to learn :
1) Discover your passion in the fitness industry
2) How to decide to change your career to personal training or not
3) How to increase your personal value in the fitness industry.
See you inside .!
For more kickstarter project visit
&