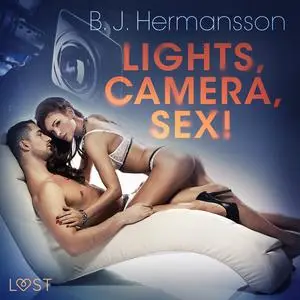 «Lights, Camera, Sex! - Erotic Short Story» by B.J. Hermansson
English | MP3@192 kbps | 27 min | 37.8 MB
Erotica, sex, desire, lust, passion, sexy, artist, art, movie, sex scene, sex tapeMalin is going to be a new movie star and has a lead role in an upcoming blockbuster. The male lead is played by the famous, incredibly sexy actor Martin. When they are about to record a sex scene, the situation requires her to come up with extraordinary measures. She wants to impress the director, and at the same time, she realises she has the opportunity to seduce Martin on the set sneakily. Right under the noses of the film crew.Lights, Camera, Sex! is an erotic short story about the desire to succeed., preferably involving lust and yearning.
Author: B. J. Hermansson skillfully creates short stories that encompass both quick-witted prose and poetic descriptions. The underlying tone in these texts often inspires the reader to contemplate and question our established, pre-conceived ideas, especially when it comes to the normal, standards and sexuality.