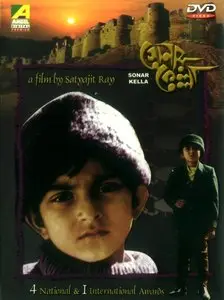 Sonar Kella (1974)
A Film by Satyajit Ray
DVD9 | ISO | NTSC 4:3 | 02:16:00 | 6,77 Gb
Audio: Bengali AC3 2.0 @ 192 Kbps | Subs: English
Genre: Adventure, Family
Mukul, a six year old boy, is obsessed with drawing pictures of a golden fortress, and claims to have lived there in a past life. Hoping to better understand the boy's condition, parapsychologist Dr. Hajra accompanies Mukul to search for the fortress. However, a newspaper story alerts a pair of crooks to the possibility of a hidden treasure. The boy's father fears Mukul is in danger, and hires private detective Prodosh "Feluda" Mitra and his cousin Topshe to join Hajra and Mukul in Rajasthan. But the danger may already be closer than they realize.
Last year my husband gave me a lovely surprise on my birthday. There is a place in Rajasthan that we both really wanted to visit. But somehow, something or the other kept cropping up and despite making prior plans, we had to postpone our tour everytime. Such was my desperation that I had started calling it the 'Jinxed Land'. Then one day it just happened. He came home. He kept his bag and other papers and went to freshen up. I picked up the lot and while taking it to our room, saw a printout of a train ticket. I couldn't believe my eyes. They were tickets to JAISALMER, the golden land we both so wanted to go to. I screamed, shrieked and jumped in glee while he just kept staring at me with the most beautiful smile ever…




Jaisalmer, the land of the Sonar Kella. Something about it immediately conjures up images of the beloved film in our minds. We both have seen the Satyajit Ray classic so many times that we wanted to relive the entire story in the Golden Fort. Needless to say we had the most awesome time in the Thar Desert and a thoroughly romantic holiday. As we walked in the serpentine lanes inside the fort (the only historical fort in India inside which people still reside), we felt like being one with history. And I, the moviebuff that I am, kept identifying the places that appeared in the climactic moments of the film. Yes, I could recognise many of them!




The 1974 film is perhaps the best children's film ever made. But defining it as a children's comedy thriller would be undermining its brilliance. It is a masterpiece that can be enjoyed by movie lovers of all age groups, and shapes and sizes. A gripping adventure centered around the super sleuth Prodosh Mitra and his satellite Topshe, Sonar Kella will never become old. It was forever fresh for my father, it's forever fresh for me and I will ensure that my children know what a sparkling piece of work it is. If Satyajit Ray became a global phenomenon in the world of cinema with Pather Panchali, it is with Sonar Kella that he stamped his authority on wholesome entertainment.




Sudhir Dhar (Sunil Sarkar) and his wife are extremely worried about the fact that their six-year-old son, Mukul (Kushal Charaborty) spends sleepless nights drawing pictures of forts, camels and battles. When asked about his queer habit, he keeps mum but occasionally responds with vague sentences like, "This is my house. That is where I played. I have seen battles." When a press reporter interviews the boy, he mumbles something about seeing precious gemstones in his house in his past life. The popular decision about Mukul is that he is haunted by memories of his past life. Dr Hemanga Hajra (Sailen Mukherjee), a renowned para-psychologist decides to take him to Rajasthan so that Mukul can see the Sonar Kella, which he has been talking about regularly (though he is not able to recall the name of the place where it is situated).




While all this is on, two crooks smell an opportunity in the whole business just because Mukul spoke of having seen precious stones in his house in his past life. Hot on the trail of Mukul, they wrongly kidnap another boy from the same locality who is also called Mukul. Realising their folly they let him go. But the mishap is enough to alarm Sudhir Dhar who rushes to Prodosh Mitra, or our famous Feluda (Soumitra Chatterjee). Dhar wants Feluda to go to Rajasthan and bring back Mukul safe and sound so that he is not harmed by the greedy crooks, who we now know as Mandar Bose (Kamu Banerjee) and Amiyanath Burman (Ajoy Banerjee). Thus the chase starts…




In the way, we have a treacherous murder attack, two fabulous imposters, awesome situational comedy, plenty of adventure and fabulous performances from everyone in the film. There is no one who doesn't do a great job. Even in his cameo, Haradhan Banerjee is sweet. He tells his worrying wife that Topshe is getting the apt education for life from Feluda… something that no school or classroom can render.

Harindranath Chatterjee is a sweet marvel as Sidhu Jetha. He is cute, intelligent, refined and so awesome. If it were not for him and Feluda I would have known what Sir William James Herschel is famous for. Hats off to Ray for choosing just the right people for these roles.




Then you have Topshe (Sidhartha Chatterjee), an enthusiastic cousin, student and sidekick to the private investigator. He is learning well from his brother, I must say. How come the later Topshe-s never matched up to him. This one is just perfect. A wonderfully subtle foil to the flamboyant charisma of Feluda.
My favourite in this film is Santosh Dutta. Essaying the role of crime author Lalmohan Ganguly, he is a man whose shoes no one has been able to fill. No, not even Bibhu Bhattacharya, who plays Jatayu in the current Feluda flicks. Right from the scene where he enters the cinematic frame, there is not a moment to be missed. He keeps you hooked with his plain-faced comedy, his mannerisms, his dialogues and his very Bengali commoner charm. Santosh Dutta was a rare find. Ray spotted him in the Kolkata High Court one day and decided he wanted this man to act in his films. He played the bride's abiding father in Ray's Samapti. But it is as Jatayu that Santosh Dutta will be forever remembered. One look at this man in this adventure and you will know why I declare so…
Ajoy Banerjee is a cute villain. He is short and looks like a devious pixie. His better half is Kamu, a glib-talking rogue posing as a smart globetrotter. But beware of the hawk-eyed Feluda. No knot is difficult for him to untie…




Soumitra Chatterjee is the best Feluda we could have ever had. He is smart, suave, disciplined and fast. With a razor sharp mind and keen observational skills, no problem is a problem for this super sleuth. Listen to him explain his actions. He justifies his moves, hence it is easy to learn from him. He chides Jatayu and enlightens him at every step. But he is not vain. It is a thorough joyride travelling with Feluda amidst the sand dunes of Rajasthan, in the dark compartments of the train, in the busy market areas of Jaipur and in the old lanes of north Calcutta. He is the Feluda we have grown up on. He is the Feluda we swear by. He is the Feluda we have learned to love. Thank you Ray for this awesome creation!




Just look at the canvas of Sonar Kella. Right from the familiar roads of Calcutta, the sights and sounds of the stations, the hustle bustle of Jaipur to the arid landscape of Jaisalmer, Ray just makes you travel with his crew. As Felu and company race against time to get to Ramdeora on camels, we feel as if we are right there amidst all the action. The colours are vibrant yet dry, very true to the feel of Rajasthan. The rustic music wafts through the air and heightens the pleasure of the entire experience. Sometimes you wonder, is it a travelogue or a crime thriller? But it is both. What is Sonar Kella without the backdrop of the larger-than-life Golden Fort?




Sonar Kella is a special film for me. I do not remember when I first saw it. But I do recall that whenever it was supposed to be aired on television my father and I used to be hyper-excited. No matter how busy my father was, he managed to wrap everything up at the nick of time so that we could sit down and enjoy the film together. On this my mother was heard saying in an exasperated fashion, "So how many times has it been now?" We chose to ignore the query. My father giggled and feigned forgetting many bits of the film. I did the same. Both of us royally bonded over this masterpiece.
Today, it is whenever I see this film, I miss him all the more. A certain part inside me wants to hear him laugh loudly when Jatayu commits those silly errors. I want to share little tidbits about the film all over again with him. But, I know he is there in the same room. Watching and enjoying Sonar Kella with me just like we did always…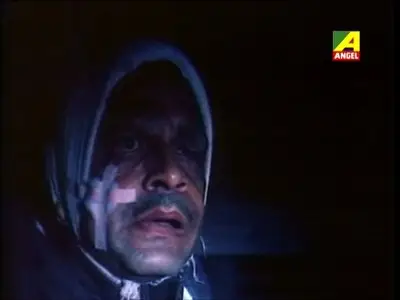 Special Features:
- 'Angel Video' Catalogue
- DVD authored at Presto
Many Thanks to Original uploader.