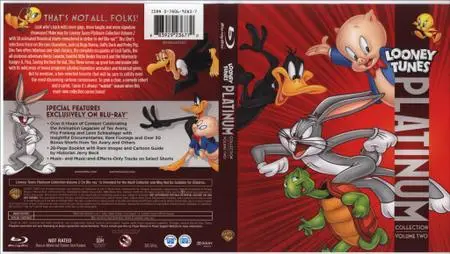 Looney Tunes: Platinum Collection. Volume 2. Part 2 (1938-1959)
BDRip 1080p | MKV | AVC 1920x1080, ~ 4.2 Mbps | 25 x ~ 8mn | ~ 25 x ~ 300 MB
English \ Spanish (Español) \ English (Commentary): AC3, 1 ch, 192 Kbps
Subtitles: English, German, Spanish, French
Genre: Animation, Comedy, Short

The Looney Tunes series of cartoons has been going strong for decades, creating some of the most beloved cartoon stars of all time, including Bugs Bunny and Daffy Duck. Among the more than 1,000 cartoons created under the Looney Tunes banner are some of the most memorable shorts ever, including four listed on the National Film Registry, five Academy Award-winners and 26 Oscar nominees.
Disc 2
- Wabbit Twouble
- Rabbit Fire
- Rabbit Seasoning
- Duck! Rabbit, Duck!
- Drip-Along Daffy
- My Little Duckaroo
- Barbary-Coast Bunny
- Tortoise Beats Hare
- Tortoise Wins By a Hare
- Rabbit Transit
- Porky's Hare Hunt
- Hare-Um Scare-Um
- Prest-O Change-O
- Elmer's Candid Camera
- Bugs Bunny Gets the Boid
- The Bashful Buzzard
- The Lion's Busy
- Strife with Father
- An Itch in Time
- A Horsefly Fleas
- Hollywood Steps Out
- Page Miss Glory
- Rocket-Bye Baby
- Russian Rhapsody
- Dough Ray Me-Ow