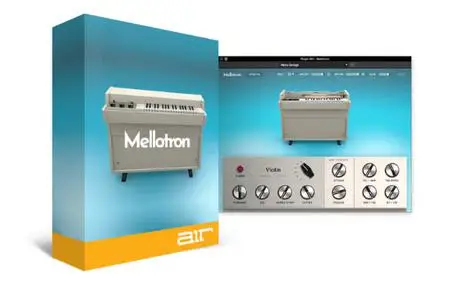 AIR Music Technology Mellotron v1.1.0 | 192.3 Mb
The new Mellotron plugin instrument is a recreation of the legendary tape sample keyboard machine featured on countless classic Rock albums. It's so Iconic many consider it to be the first sampler. With AIR's over 20 years of experience in developing high-quality emulations, you can be assured this instrument won't disappoint.
Our new Mellotron Plugin Instrument is designed for creative music production with a wide array of parameters, settings, and controls to craft an expansive range of keyboard instrument sounds. Start with the built-in sound categories and venture into a wide variety of sound shaping sections, notably, the new Flavor section.
AIR Mellotron includes 6 Tape Sets featuring the OG's Flute, Choir and Strings tape samples, giving it a truly authentic sound. You can also select "Dirty" and "Cleaned" versions of the original tapes. Other sound-shaping parameters include Formant, Age and Sample Start. There are 30 factory presets to get you going and a selection of built-in effects, including the new AIR Flavour (instant lo-fi goodness).
AWARD-WINNING EFFECTS BY AIR TECHNOLOGY
AIR Mellotron has world-class audio effects processing built-in to enhance your sounds as you create quickly. Choose from Compressor, Four Band EQ, Spring Reverb, Delay and the new Flavour, each with a dedicated section to dial-in any adjustments.
New AIR Flavor - distort and transform your patches into lo-fi heaven all inside a single multi-effect. Apply eq simulations of radios, phones, and tape machines to dramatically change the timbre of a patch, distort, add noise, and tape flutter to access a range of lo-fi treatments.
The AIR Creative FX collection has been included as part of Pro Tools® since Version 8 and is considered the reference FX suite by some of the world's most respected audio professionals. AIR FX has been featured in many of the last decade's top film, game and music projects. Each plugin has been expertly designed with ease of use and will ensure professional results each time.
Home Page -
https://www.airmusictech.com/virtual-instruments/mellotron.html