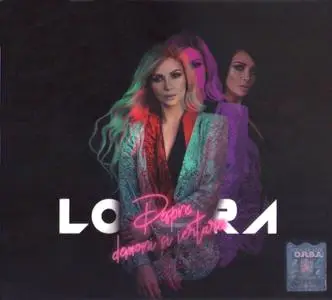 Lora - Despre Demoni Și Iertare (2019)
EAC Rip | FLAC (tracks+.cue, log) ~ 345.46 Mb + 42.27 Mb (Scans) | 44:00
Pop | Country: Romania | Label: Universal Music România - 7761824
Singer and songwriter, Lora is one of the most talented and apreciated artists from Romania at this moment. She was born in Vaslui, a small town but spent most of her childhood at the country side. She started singing as a backing vocalist in a rock band, then she made her own band named "FM" and soon after that she decided to participate at one of the biggest TV shows back then – "Star Factory", where she made a very good impression, coming in the second place.
After a successful participation at the show, her talent wasn't ignored and started a pop band - Wassabi with other three girls. The colaboration ended after three years when Lora decided is time to do something on her own. Since then, her career was gaining more and more success with every new single released, her songs reaching quickly top charts positions. It was a matter of time until Lora proved her talent and artistic qualities also on Tv shows, being a jury member for Next Star tv show since 2013. Lora artist is singned with MediaPro Music Record Label.
Track List:
01. I Know
02. Valul
03. Lume (feat. Sergiu Ferat)
04. Rămas Bun
05. Pleacă
06. Te Rog
07. Cinci
08. Până În Rai
09. Tu Și Ea
10. Soare Negru
11. Îmi Cer Iertare
12. Rădăcini
13. Doddy - Dor Să Te Ador (feat. Lora)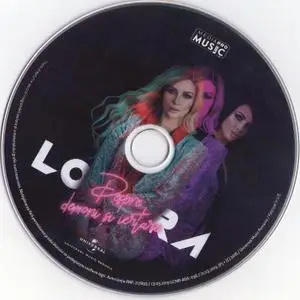 Exact Audio Copy V1.3 from 2. September 2016

Отчёт EAC об извлечении, выполненном 27. июня 2019, 15:12

Lora / Despre Demoni Si Iertare

Дисковод: PLEXTOR DVDR PX-L890SA Adapter: 1 ID: 0

Режим чтения : Достоверность
Использование точного потока : Да
Отключение кэша аудио : Да
Использование указателей C2 : Нет

Коррекция смещения при чтении : 6
Способность читать области Lead-in и Lead-out : Нет
Заполнение пропущенных сэмплов тишиной : Да
Удаление блоков с тишиной в начале и конце : Нет
При вычислениях CRC использовались нулевые сэмплы : Да
Интерфейс : Встроенный Win32-интерфейс для Win NT/2000
Обработка зазоров : Добавлено к предыдущему треку

Выходной формат : Пользовательский кодировщик
Выбранный битрейт : 896 kBit/s
Качество : Высокий
Добавление ID3-тега : Нет
Утилита сжатия : C:\Program Files\Exact Audio Copy\Flac\flac.exe
Дополнительные параметры : -V -8 -T "Genre=%genre%" -T "Artist=%artist%" -T "Title=%title%" -T "Album=%albumtitle%" -T "Date=%year%" -T "Tracknumber=%tracknr%" -T "Comment=%comment%" %source%


TOC извлечённого CD

Трек | Старт | Длительность | Начальный сектор | Конечный сектор
––––––––––––––––––––––––––––––––––-
1 | 0:00.00 | 3:27.25 | 0 | 15549
2 | 3:27.25 | 3:21.58 | 15550 | 30682
3 | 6:49.08 | 3:34.57 | 30683 | 46789
4 | 10:23.65 | 3:42.20 | 46790 | 63459
5 | 14:06.10 | 3:41.23 | 63460 | 80057
6 | 17:47.33 | 2:58.67 | 80058 | 93474
7 | 20:46.25 | 3:06.21 | 93475 | 107445
8 | 23:52.46 | 3:25.25 | 107446 | 122845
9 | 27:17.71 | 2:46.63 | 122846 | 135358
10 | 30:04.59 | 3:08.34 | 135359 | 149492
11 | 33:13.18 | 3:30.09 | 149493 | 165251
12 | 36:43.27 | 3:58.03 | 165252 | 183104
13 | 40:41.30 | 3:18.74 | 183105 | 198028


Трек 1

Имя файла D:\Lossless 2\Lora - Despre Demoni Si Iertare 2019\01 I Know.wav

Длина предзазора 0:00:02.00

Пиковый уровень 92.7 %
Скорость извлечения 4.4 X
Качество трека 100.0 %
CRC теста 14F8AD00
CRC копии 14F8AD00
Трек не обнаружен в базе AccurateRip
Копирование… OK

Трек 2

Имя файла D:\Lossless 2\Lora - Despre Demoni Si Iertare 2019\02 Valul.wav

Длина предзазора 0:00:02.00

Пиковый уровень 95.4 %
Скорость извлечения 4.7 X
Качество трека 100.0 %
CRC теста 52B607DA
CRC копии 52B607DA
Трек не обнаружен в базе AccurateRip
Копирование… OK

Трек 3

Имя файла D:\Lossless 2\Lora - Despre Demoni Si Iertare 2019\03 Lume.wav

Длина предзазора 0:00:02.00

Пиковый уровень 91.0 %
Скорость извлечения 4.4 X
Качество трека 99.9 %
CRC теста 2AAEB85F
CRC копии 2AAEB85F
Трек не обнаружен в базе AccurateRip
Копирование… OK

Трек 4

Имя файла D:\Lossless 2\Lora - Despre Demoni Si Iertare 2019\04 Ramas Bun.wav

Длина предзазора 0:00:02.00

Пиковый уровень 97.7 %
Скорость извлечения 5.1 X
Качество трека 100.0 %
CRC теста 11F3F9BE
CRC копии 11F3F9BE
Трек не обнаружен в базе AccurateRip
Копирование… OK

Трек 5

Имя файла D:\Lossless 2\Lora - Despre Demoni Si Iertare 2019\05 Pleaca.wav

Длина предзазора 0:00:02.00

Пиковый уровень 97.1 %
Скорость извлечения 5.1 X
Качество трека 100.0 %
CRC теста 4EDE1512
CRC копии 4EDE1512
Трек не обнаружен в базе AccurateRip
Копирование… OK

Трек 6

Имя файла D:\Lossless 2\Lora - Despre Demoni Si Iertare 2019\06 Te Rog.wav

Длина предзазора 0:00:02.00

Пиковый уровень 100.0 %
Скорость извлечения 4.9 X
Качество трека 100.0 %
CRC теста C7BA2CEF
CRC копии C7BA2CEF
Трек не обнаружен в базе AccurateRip
Копирование… OK

Трек 7

Имя файла D:\Lossless 2\Lora - Despre Demoni Si Iertare 2019\07 Cinci.wav

Длина предзазора 0:00:01.73

Пиковый уровень 93.2 %
Скорость извлечения 4.3 X
Качество трека 99.9 %
CRC теста 65C05604
CRC копии 65C05604
Трек не обнаружен в базе AccurateRip
Копирование… OK

Трек 8

Имя файла D:\Lossless 2\Lora - Despre Demoni Si Iertare 2019\08 Pana In Rai.wav

Длина предзазора 0:00:02.00

Пиковый уровень 94.5 %
Скорость извлечения 5.1 X
Качество трека 100.0 %
CRC теста 644956B2
CRC копии 644956B2
Трек не обнаружен в базе AccurateRip
Копирование… OK

Трек 9

Имя файла D:\Lossless 2\Lora - Despre Demoni Si Iertare 2019\09 Tu Si Ea.wav

Длина предзазора 0:00:02.00

Пиковый уровень 92.3 %
Скорость извлечения 4.9 X
Качество трека 100.0 %
CRC теста 61B88513
CRC копии 61B88513
Трек не обнаружен в базе AccurateRip
Копирование… OK

Трек 10

Имя файла D:\Lossless 2\Lora - Despre Demoni Si Iertare 2019\10 Soare Negru.wav

Длина предзазора 0:00:02.00

Пиковый уровень 97.7 %
Скорость извлечения 5.0 X
Качество трека 100.0 %
CRC теста 2E85D4B5
CRC копии 2E85D4B5
Трек не обнаружен в базе AccurateRip
Копирование… OK

Трек 11

Имя файла D:\Lossless 2\Lora - Despre Demoni Si Iertare 2019\11 Imi Cer Iertare.wav

Длина предзазора 0:00:02.00

Пиковый уровень 78.7 %
Скорость извлечения 4.5 X
Качество трека 99.9 %
CRC теста A01FA82B
CRC копии A01FA82B
Трек не обнаружен в базе AccurateRip
Копирование… OK

Трек 12

Имя файла D:\Lossless 2\Lora - Despre Demoni Si Iertare 2019\12 Radacini.wav

Длина предзазора 0:00:02.00

Пиковый уровень 97.7 %
Скорость извлечения 4.6 X
Качество трека 99.9 %
CRC теста AE0D3A21
CRC копии AE0D3A21
Трек не обнаружен в базе AccurateRip
Копирование… OK

Трек 13

Имя файла D:\Lossless 2\Lora - Despre Demoni Si Iertare 2019\13 Dor Sa Te Ador.wav

Длина предзазора 0:00:02.00

Пиковый уровень 96.0 %
Скорость извлечения 5.0 X
Качество трека 100.0 %
CRC теста 04426DAD
CRC копии 04426DAD
Трек не обнаружен в базе AccurateRip
Копирование… OK


Ни одного трека нет в базе AccurateRip

Ошибок не произошло

Конец отчёта

–– CUETools DB Plugin V2.1.6

[CTDB TOCID: UsFXhZUZ7CzwuB7iAeLr3pAZvE4-] disk not present in database
Submit result:


==== Контрольная сумма отчёта D5DF76FE496A030DE5D2E0D98E0782F3E1370DB9EB1EBA34A92424430456F122 ====
All thanks go to the Hermes1967