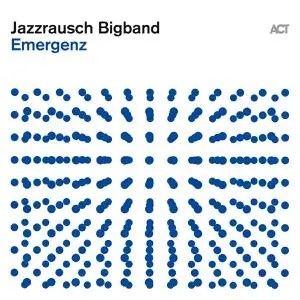 Jazzrausch Bigband - Emergenz (2022)
WEB FLAC (tracks) - 293 Mb | MP3 CBR 320 kbps - 105 Mb | Digital booklet | 00:43:18
Contemporary Jazz, Electronic, Big Band | Label: ACT Music
Jazz meets techno meets big band. It really shouldn't work…and yet, as anyone who has ever heard or seen the Jazzrausch Bigband will know, the reality of the band in action firmly knocks that idea on the head. Ever since Jazzrausch started in 2014, it has been on an unstoppable path of growth and development which has been very much on the band's own terms. Jazzrausch first came to attention as the house band at the legendary Munich techno club "Harry Klein" – currently threatened with closure, incidentally – where the recordings for the new album "Emergenz" were made. Since then, the band's growing renown has taken it to Germany's great temples of classical music: the Elbphilharmonie in Hamburg, the Isarphilharmonie in Muich and the Berlin Philharmonie… and a buzz has been building internationally too. What is Jazzrausch Bigband all about? Putting a couple of exceptional and unconventional musical brains in charge, letting their sense of what is serious and what is banging prevail, and then seeing how much it can appeal to both younger and older audiences. Jazzrausch has dealt with the whole idea of 'no can do'. By hitting it out of the ballpark.

The fact that Jazzrausch works so well is attributable to three factors which have remained constant. First there is Roman Sladek: this bandleader/organiser/mover/shaker is a strong-toned, and classically-trained trombonist…who also has a background in heavy metal. Second, there is composer/ electronic musician Leonhard Kuhn: the fact that Jazzrausch Bigband also functions like a classical orchestra is down to him. Each "season" they devote themselves to one or more new themes. They take a classical composer like Beethoven, Bruckner or Shostakovich, or they put their minds to trends in philosophy, literature or the natural sciences. Or they'll concoct a swinging Christmas programme, and (as happened with one project) they'll completely turn their backs on techno. None of this would be possible without the thirty or so musicians who make up the Jazzrausch Big Band. Each of them is a genuine and individual character with a clear identity, stage personality and her or his uniquely diverse musical background.

The theme of the new album is "Emergenz" (emergence), a term from philosophy and systems theory which describes new properties which occur in a system as a result of the interaction of its individual elements. It serves well as a metaphor for Jazzrausch Bigband, a living and constantly changing organism. Comparing "Emergenz" with earlier albums, what is most striking is how the band's expressive palette has become even more differentiated and refined. The moments when the energy levels are at their highest are still dominated by techno jazz, which is only to be expected. But, in between, the regular four-on-the-floor pulse of the bass drum is increasingly frequently suspended, so there are sections where the forward momentum comes from intricate interlocked horn parts, or just from voices. Influences from minimal music and bouncy drum'n'bass are audible too. Fragments from poems by Gertrude Stein ("Go!Go!Go!", "Present Tense") are present, as is the music of Wayne Shorter ("Orbits"). On "As Darkness Fell", the Armenian-born trumpeter Angela Avetisyan whispers of a time when things became quiet and no music could be heard. The ballad "Five Dice" tells the true story of a woman who, after separating from her partner, keeps five dice as a memento of him. The nervously upbeat "Ticking Time Bomb" describes the feeling of being overwhelmed by one's own feelings and thoughts, and almost bursting out of oneself as a result of a sheer overload of impressions.

Of course it is of some help to be aware of all of these factors which have influenced the lives and thought processes of the participants. But, in the end, there is really only one way to get to the bottom of the Jazzrausch Big Band phenomenon, and the fascination and success which there clearly is around it. And that is to hear their music first-hand, to be affected, touched and inspired by it. The different external factors unite organically, and what emerges is completely new and utterly compelling. This is music which takes hold of the listener's heart and head. Say it again: it really shouldn't work. But it truly, definitely does.
Tracklist:
1.
Go! Go! Go! (feat. Florian Leuschner & Patricia Römer)
(02:57)
2.
Five Dice (feat. Moritz Stahl & Patricia Römer)
(03:16)
3.
As Darkness Fell (feat. Julian Hesse & Angela Avetisyan)
(04:20)
4.
Plagwitz Calling (feat. Roman Sladek)
(03:28)
5.
Autopoiesis (feat. Angela Avetisyan)
(03:05)
6.
Emergent Evolution (feat. Roman Sladek)
(02:57)
7.
Channel 23
(01:09)
8.
Ticking Time Bomb (feat. Thorben Schütt & Patricia Römer)
(03:39)
9.
Rote Kammer (feat. Moritz Stahl)
(02:52)
10.
Money Talks (feat. Heinrich Wulff)
(03:12)
11.
Untalk
(01:10)
12.
Present Tense (feat. Frederik Mademann & Alma Naidu)
(03:03)
13.
Orbits (feat. Daniel Klingl)
(03:47)
14.
Cyperaceæ (feat. Moritz Stahl)
(01:09)
15.
Have You Heard (feat. Bettina Maier & Alma Naidu)
(03:12)
–––––––––––-

DON'T MODIFY THIS FILE

–––––––––––-

PERFORMER: auCDtect Task Manager, ver. 1.6.0 RC1 build 1.6.0.1
Copyright © 2008-2010 y-soft. All rights reserved

ANALYZER: auCDtect: CD records authenticity detector, version 0.8.2
Copyright © 2004 Oleg Berngardt. All rights reserved.
Copyright © 2004 Alexander Djourik. All rights reserved.


FILE: 15 - Jazzrausch Bigband - Have You Heard.flac
Size: 22566544 Hash: 65AB203F80934482F735CD8FCE099B7A Accuracy: -m8
Conclusion: MPEG 100%
Signature: BECE8DF815020B7B8365D0A65CE303904175650D
FILE: 14 - Jazzrausch Bigband - Cyperaceæ.flac
Size: 7780508 Hash: 3D59BB47729F873880BC90FE321F618B Accuracy: -m8
Conclusion: CDDA 100%
Signature: 5C26FC253CA82F6156399EF6BF7A4257E927FED9
FILE: 13 - Jazzrausch Bigband - Orbits.flac
Size: 28276567 Hash: 11D092CB87142D6028E9B0C64A0F7C85 Accuracy: -m8
Conclusion: CDDA 43%
Signature: 12F8BA15A88CA0AB555F3AF154ECD4F3EAFF62FD
FILE: 12 - Jazzrausch Bigband - Present Tense.flac
Size: 21814698 Hash: 25995557681B3C8BECAD05DDC825B89D Accuracy: -m8
Conclusion: CDDA 54%
Signature: 43482586794830F8C838173E645BE2395402BE61
FILE: 11 - Jazzrausch Bigband - Untalk.flac
Size: 7831974 Hash: D128142CCFE4115A425424923400105A Accuracy: -m8
Conclusion: CDDA 43%
Signature: 3ACBE7A7148EA25E5AA30118AF4E90E5EB5318D5
FILE: 10 - Jazzrausch Bigband - Money Talks.flac
Size: 21971220 Hash: DEC955F0953186BA9BD3ABEEEF8258F2 Accuracy: -m8
Conclusion: MPEG 93%
Signature: C9C1E20D7879A9380D0DCB90D43A5763FEC1DC3B
FILE: 09 - Jazzrausch Bigband - Rote Kammer.flac
Size: 20870422 Hash: 843B3AFDF8550BB6ADE722C4DAA39484 Accuracy: -m8
Conclusion: MPEG 97%
Signature: DC2EFE75B5845D9CE6AF915897AFC32A58015567
FILE: 08 - Jazzrausch Bigband - Ticking Time Bomb.flac
Size: 24455020 Hash: C3D8F69798927095A288FD4A41100CF8 Accuracy: -m8
Conclusion: MPEG 89%
Signature: E7263374FAAC92671C5674B4FE28CCBB977F02A9
FILE: 07 - Jazzrausch Bigband - Channel 23.flac
Size: 7031597 Hash: DB93810E3B45957985BF9B1A70FC48AA Accuracy: -m8
Conclusion: CDDA 100%
Signature: E7A542CBA97BB6FC812815A9E6112E24BC25F446
FILE: 06 - Jazzrausch Bigband - Emergent Evolution.flac
Size: 20192902 Hash: E38CEBF16E588541E6D17848EB10A2FE Accuracy: -m8
Conclusion: CDDA 54%
Signature: BBE215288F42888D70CBD81AF7EBE60D0E36E901
FILE: 05 - Jazzrausch Bigband - Autopoiesis.flac
Size: 22305363 Hash: 39C5BA64E4E2345F84BD17010E305CC9 Accuracy: -m8
Conclusion: CDDA 58%
Signature: EC752620FCEFC4A8CA6A29D166A72926A373B103
FILE: 04 - Jazzrausch Bigband - Plagwitz Calling.flac
Size: 23865383 Hash: D5FD7390AD9F2FDECB53A69FA545B4F1 Accuracy: -m8
Conclusion: MPEG 92%
Signature: CCDCBAAD44A0DDB542FEEAB3E551F48DA5CED1A9
FILE: 03 - Jazzrausch Bigband - As Darkness Fell.flac
Size: 31556603 Hash: D43CBA8D80B094AFEDCADEADEBFB4FFA Accuracy: -m8
Conclusion: CDDA 54%
Signature: 3764006C89FA55D3C893B2759708F79B1422F866
FILE: 02 - Jazzrausch Bigband - Five Dice.flac
Size: 22016533 Hash: 79083C3BBE803E049285752375FA4F0E Accuracy: -m8
Conclusion: CDDA 58%
Signature: DE85CB47299CCBCF4CB884E3D024381290B0E3BF
FILE: 01 - Jazzrausch Bigband - Go! Go! Go!.flac
Size: 19516492 Hash: 9FAA387352F5D744429EBC2C35297033 Accuracy: -m8
Conclusion: MPEG 100%
Signature: 2F1E7424C711CEB1B2308014634E4E304C90F278