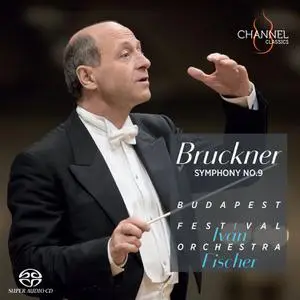 Iván Fischer & Budapest Festival Orchestra - Bruckner: Symphony No. 9 (1894 Version) (2022)
WEB FLAC (tracks) - 218 Mb | MP3 CBR 320 kbps - 128 Mb | Digital booklet | 00:55:18
Classical | Label: Channel Classics Records
Following his critically acclaimed interpretation of Bruckner's 7th Symphony, Iván Fischer leads his Budapest Festival Orchestration to the summit of 19th century symphonic music, with this new recording of the monumental, enigmatic, unfinished and deeply religious 9th Symphony of Anton Bruckner.

The three completed movements are pervaded with angst and awareness of death. As in Mozart's unfinished Requiem, the first movement is dominated by a dark D minor. The pounding rhythms of the scherzo seem to anticipate Stravinsky and Bartók, while the large leaps and piercing dissonances point towards the Second Viennese School of Arnold Schoenberg, Alban Berg and Anton Webern. The Adagio is Bruckner's heartrending farewell to the world and to life. Although Bruckner died before he could write the huge fourth movement he had in mind, there is something satisfying and comforting in concluding with the Adagio.
Tracklist:
1.
Symphony No. 9 in D Minor, WAB 109: I. Feierlich. Misterioso (1894 Version)
(22:20)
2.
Symphony No. 9 in D Minor, WAB 109: II. Scherzo. Bewegt, lebhaft - Trio. Schnell (1894 Version)
(09:32)
3.
Symphony No. 9 in D Minor, WAB 109: III. Adagio. Langsam, feierlich (1894 Version)
(23:26)
–––––––––––-

DON'T MODIFY THIS FILE

–––––––––––-

PERFORMER: auCDtect Task Manager, ver. 1.6.0 RC1 build 1.6.0.1
Copyright © 2008-2010 y-soft. All rights reserved

ANALYZER: auCDtect: CD records authenticity detector, version 0.8.2
Copyright © 2004 Oleg Berngardt. All rights reserved.
Copyright © 2004 Alexander Djourik. All rights reserved.


FILE: 03 - Symphony No. 9 in D Minor, WAB 109_ III. Adagio. Langsam, feierlich (1894 Version).flac
Size: 91015399 Hash: 3E9A7D887BF6DC0808835144BD223832 Accuracy: -m8
Conclusion: CDDA 100%
Signature: 15152F7F4BD30C117CA8E39B956AA0B3011292B5
FILE: 02 - Symphony No. 9 in D Minor, WAB 109_ II. Scherzo. Bewegt, lebhaft - Trio. Schnell (1894 Version).flac
Size: 40298247 Hash: 7C2C9D02182E1155BA61DF1E4BAFB6B3 Accuracy: -m8
Conclusion: CDDA 100%
Signature: BF2FC8C8387341D21A512999DA16C9C1574F9D13
FILE: 01 - Symphony No. 9 in D Minor, WAB 109_ I. Feierlich. Misterioso (1894 Version).flac
Size: 95735638 Hash: 17D5C836DD9EE5148B0B80413F5278BB Accuracy: -m8
Conclusion: CDDA 99%
Signature: A9A7C37F89F349CF5AC689E8B86B049EC4FD0CA0