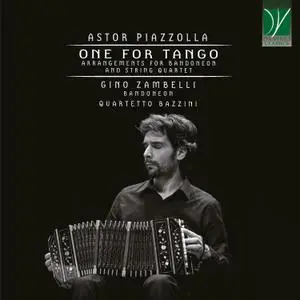 Gino Zambelli & Quartetto Bazzini - Astor Piazzolla: One For Tango (Arrangements for Bandoneon and String Quartet) (2022)
WEB FLAC (tracks) - 313 Mb | MP3 CBR 320 kbps - 155 Mb | 01:07:25
Classical | Label: Da Vinci Classics
It is a meaningful sign of the times that Astor Piazzolla is arguably one of the most frequently performed composers on the contemporary musical stage, even though he probably never aimed at writing "classical" music. True, one of the fundamental encounters of his life was with composer and teacher Nadia Boulanger, who mentored many of the most important avant-garde musicians of the second half of the twentieth century. And, under her guidance, Piazzolla did attempt to express his personality through the language of Western contemporary music. The results, of course, were very good, since nobody could question Piazzolla's talent. Yet, when Piazzolla performed one of the tangos he had already written to his professor, she exclaimed: "Astor, all your classical pieces are well written, but the true Piazzolla sound is here, never leave it behind!". And if the language of Piazzolla's music does not correspond to that of the coeval European avantgardes, neither does it conform to the standards of the Argentinian tango tradition. It is precisely for his utter originality that Astor Piazzolla rightfully claimed and obtained a place in the pantheon of twentieth-century classical music. But it is also this originality that may puzzle those attempting to classify him within one of the established musical categories.

Piazzolla's biography is well known, but it nonetheless is worth recalling, particularly because it has more than a light bearing on his style and musical personality. Piazzolla's hundredth birthday has been recently celebrated, in 2021, but unfortunately the composer left us thirty years ago, in 1992: so, this year 2022 which follows by one year the jubilee of the composer's birth is also the thirtieth anniversary of his death. He was born on March 11th, 1921, in Mar del Plata, in Argentina. His father came from a city in Southern Italy; his fate had been that of many Italian emigrants who crossed the Atlantic in search of fortune. And as happened to many emigrants, North and South America were frequently seen as a single identity; "America" was the promise of a better life, and the US or countries like Argentina or Chile offered hope and opportunities. Thus, whilst Astor was born in Argentina, his family soon moved to North America, where the child's father opened a barber's shop in Manhattan. In his earliest years, therefore, the child was exposed to the exhilarating and exciting scene of the Roaring Twenties with their innovative music. At the same time, Astor's uprooted father did not forget the provisional roots he had established in Argentina, and, when the time came, he presented his son with a second-hand bandoneon, the quintessentially Argentinian instrument. It had been developed in the previous century by a German engineer, who curiously (in our eyes) created it as a replacement for the organ in the open-air religious services of the Lutheran church. From the processions with sung chorales to the world of tango, the bandoneon had a long way to go; yet, it currently owes its success doubtlessly more to its secular repertoire than to its sacred origins. One element, however, does connect the bandoneon and its most typical repertoire, the tango, to its sacred vocation: it is the element of longing, of nostalgia, of yearning. Tango uniquely expresses the desire of human love; still, as Kierkegaard famously and brilliantly demonstrated in his interpretation of Mozart's Don Giovanni, this very yearning is an expression of the deeper aspiration to infinity found in the depths of the human heart. And whilst tango dancing displays a deep bodily union between the partners, the melancholia of both music and gestures reveals that not even that union can fully satisfy human beings. While remaining firmly secular, and at times frankly erotic, tango music still demonstrates that the fullness of a human being's reality transcends materiality and what pertains to the world of the senses. Enthralled by the bandoneon and by its repertoire, young Piazzolla quickly became a virtuoso; at the very young age of thirteen, he was deemed accomplished enough by legendary singer Carlos Gardel to be invited to join him on an international tour. To Piazzolla's chagrin, Astor's father forbade the teenager to embark on that adventure. But this choice saved his life, since the plane crashed. In 1936 Piazzolla went back to his homeland, Argentina, and became a respected member of the local musical scene, participating in performances with the greatest bandoneonist of all times, Anibal Troilo also known as "Pichuco". After the end of World War II, Piazzolla established his own orchestra, and, as previously said, crossed the Atlantic in order to study with Boulanger. He sought, for a while, to suppress his "Argentinian" vein and to conform to the European idioms; but, fortunately, was convinced to get back to his own language and personality. At the same time, Piazzolla's immersion into the ebullient atmosphere of post-War Paris did not leave him unaffected. He absorbed the novelties of the experimental languages which were crafted there, and mixed them with the Argentinian heritage he bore, giving life to a novel, unique style. This style is blended from elements such as polyrhythmy, polytonality, and the fundamental rhythm which characterises tango music, and which derives from the Cuban Habanera and Contradanza.

Europe did not only represent the composer's deep roots; it was also his future. It was in Italy that he recorded his first international successes, along with some of the greatest Italian musicians of the "non-classical" scene of the era. In 1974, he recorded Libertango, a hymn to freedom in music, with an ensemble including many non-traditional instruments – such as drums or electric bass. It was a sensation. It left nobody indifferent: it enthused most of its listeners, who rightfully recognised in it the potential for a whole new genre – the one which would be called New Tango – and it outraged its detractors, who found offense precisely in the same reason. Another legendary Italian project was that leading to the creation of Oblivion, one of Piazzolla's best known compositions. It was commissioned in 1984 by film director Marco Bellocchio, who employed it as the score for one of his films, by the title of Henry IV (Enrico IV).

Italy also led Piazzolla to know two unique female voices, those of Milva and Mina. In particular, the former impressed him indelibly, with her unique timbre and personality. For her, Piazzolla created a variation on Oblivion, conceived in such a fashion that she could sing it, with the touching, sweet, lyrical, and enchanting mood of this piece. For her, Piazzolla also wrote an entire opera, albeit a short one (an operita), called Maria de Buenos Aires. Within the second half of this opera, there are two instrumental pieces, the last of which is Allegro tangabile, just before the two concluding pieces. Here we see, once more, the complex dialectics between the sacred and the secular, the religious and the scandalous. The subject matter of Maria de Buenos Aires verges on the blasphemous; yet, going beyond its superficial appearance, it also powerfully affirms the sacredness of human life, and the miracle of our existence. In the version of Allegro Tangabile recorded here, Zambelli inserted a fragment out from another adagio, excerpted from Piazzolla's Chin Chin. Even more clearly, the bandoneon resumes its original calling in Adios Nonino, a tango which is also a dirge. It was written in 1959, while the composer was on tour in New York, and he was given the sad news of his father's sudden death in a bicycle accident. As recounted by his son Daniel, "Dad asked us to leave him alone for a few hours. We went into the kitchen. First there was absolute silence. After a while, we heard dad playing the bandoneon. It was a very sad, terribly sad melody. He was composing Adiós Nonino". The piece derives its name from "Nonino", the family's appellative for Astor's father, and from an eponymous tango Piazzolla had written five years earlier. It is a heart-rending piece full of nostalgia and tenderness, and very close to an instrumental, tangoed requiem.

Mystical themes, albeit revisited in a typically Piazzolla fashion, are also found in the Milonga del Ángel, written in 1962 along with two other "angel" pieces (Introducción al Ángel and Muerte del Ángel). They were joined, three years later, by a Resurrección del Ángel, where the earlier sad conclusion was reversed. This piece was recorded by Piazzolla on several occasions, among which in an eponymous album and in Tango: Zero Hour. In this last album was also contained Mumuki, a piece revisited in this Da Vinci Classics CD blending it with Chick Corea's Señor Mouse. Italy also inspired a sequence of six tangos, written in 1974, and having very innovative names (Piazzolla famously affirmed that it was easier to write the music than to find the titles!). Among them there is Meditango, a piece whose Baroque inspiration is indebted to Vivaldi, as the composer himself acknowledged, rather than to Bach with whose music Piazzolla had been familiar since his childhood. He had played Bach, of course, on the bandoneon, and another piece in this album pays homage to Piazzolla's unceasing friendship with his instrument. It is Tristeza de un doble A, whose perplexing title refers to the name of the musician's instrument. Vivaldi also recurs in the Estaciones Porteñas, which explicitly pay homage to Vivaldi's best-known works, the Four Seasons. Here the "seasons" are those of Buenos Aires, whose inhabitants call themselves Porteños. In this recording, however, the "four seasons" are collapsed into just one. Ironically, Zambelli suggests that this is due to the disappearance of the meteorological seasons due to climate change… Still, this idea perfectly mirrors the flexibility in scoring and musical structure which was Piazzolla's, and which Zambelli consistently adopted in his arrangements.

Throughout the programme, he mimics the concerto-like tripartite structure (Allegro/Adagio/Presto) so frequently found in Piazzolla's music, and freely combines excerpts from a variety of works. The performer's most creative approach, however, is that found in Chick Corea / Piazzolla, where he combines a piece by Piazzolla dedicated to a dog, Mumuki, with one by Corea dedicated to a mouse. The piece was extemporised, at first, when the news about Corea's death reached the musicians, who were recording this album at that moment. On the spur of the moment, a beautiful musical idea was created; encouraged by the approval of his colleagues, Zambelli realised a new work which is premiered here. Corea and Piazzolla never played with one another, but their works have many points in common (both loved jazz, and Corea adopted flamenco suggestions which can be likened to tango). Also in Astor Suite, Zambelli combined a suite out of pieces by Piazzolla, later arranging this Suite for solo bandoneon and orchestra (in this form, he performed it in a China tour with symphony orchestra).

Virtually all pieces in this CD, therefore, display an Italian connection: from the "Nonino" who emigrated to pieces originally born and recorded in Italy, from Vivaldi to Zambelli. The long roots of the most Argentinian of the Argentinian musicians dig deep into Italian soil.
Tracklist:
1.
Quartetto Bazzini – Adiós Nonino
(07:33)
2.
Quartetto Bazzini – Milonga del Ángel
(05:51)
3.
Quartetto Bazzini – Allegro tangabile
(04:50)
4.
Quartetto Bazzini – Tristeza de un doble "A"
(07:51)
5.
Quartetto Bazzini – Piazzolla Check Corea (Arranged by Gino Zambelli)
(04:54)
6.
Quartetto Bazzini – Meditango
(06:00)
7.
Quartetto Bazzini – Astor Suite (Arranged by Gino Zambelli)
(14:31)
8.
Quartetto Bazzini – Cuatros Estaciones Porteñas
(10:53)
9.
Quartetto Bazzini – Oblivion
(04:57)
–––––––––––-

DON'T MODIFY THIS FILE

–––––––––––-

PERFORMER: auCDtect Task Manager, ver. 1.6.0 RC1 build 1.6.0.1
Copyright © 2008-2010 y-soft. All rights reserved

ANALYZER: auCDtect: CD records authenticity detector, version 0.8.2
Copyright © 2004 Oleg Berngardt. All rights reserved.
Copyright © 2004 Alexander Djourik. All rights reserved.


FILE: 09 - Oblivion.flac
Size: 25546824 Hash: 82674582BA525715F61E317F372C5DDD Accuracy: -m8
Conclusion: CDDA 85%
Signature: 6CDA86057064A6FA9CFA186D786CAD05B23D1772
FILE: 08 - Cuatros Estaciones Porteñas.flac
Size: 54633987 Hash: C5CED80A2E0D69476552F7C41D45F5C7 Accuracy: -m8
Conclusion: MPEG 95%
Signature: 25F67466C54EEC385F418E6FEF2D539693F2C968
FILE: 07 - Astor Suite (Arranged by Gino Zambelli).flac
Size: 75481966 Hash: 253D4E37EDAB479D88E49AD9A52F2CDB Accuracy: -m8
Conclusion: CDDA 99%
Signature: D30EDEB379702983A041D869CC53CD22421652FE
FILE: 06 - Meditango.flac
Size: 26773632 Hash: 530975BA9D0D5B9946C738CF3496BB72 Accuracy: -m8
Conclusion: CDDA 62%
Signature: 91AF17831BDC65C40D8B1CC15F1B1FDBE419794E
FILE: 05 - Piazzolla Check Corea (Arranged by Gino Zambelli).flac
Size: 22033337 Hash: 912FAA13FE56A993FC27A23AF8FA4059 Accuracy: -m8
Conclusion: MPEG 90%
Signature: 466785306F419CDACA3BCF050E7A5201A7967633
FILE: 04 - Tristeza de un doble _A_.flac
Size: 38217096 Hash: 94E311E5E7A03C5569FCB12487DF8666 Accuracy: -m8
Conclusion: MPEG 95%
Signature: 6AD2EDA70783551C7578CD663141E4A7BA84BB61
FILE: 03 - Allegro tangabile.flac
Size: 23572048 Hash: 2756B6BF31EE13A083B7AEE387674C93 Accuracy: -m8
Conclusion: CDDA 99%
Signature: 4AFC5ABBE62DBDC60525787B4BE5685DEB50B638
FILE: 02 - Milonga del Ángel.flac
Size: 26320948 Hash: AE6E4063D351F6B555454F17C2C90315 Accuracy: -m8
Conclusion: MPEG 95%
Signature: F6738E5EDD01F206118DCEE80FA9EA8ECFC5B0D3
FILE: 01 - Adiós Nonino.flac
Size: 35260800 Hash: 09F1C461EA33B236DC9E035536CA0793 Accuracy: -m8
Conclusion: MPEG 95%
Signature: 2EABA3BDC9BF8B49FC79BAD3F4E2B49B33C46959