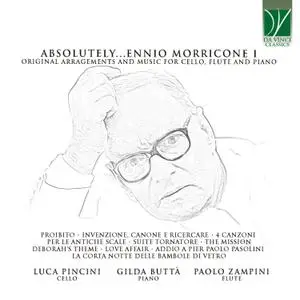 Gilda Buttà, Luca Pincini, Paolo Zampini - Absolutely… Morricone I: Original Arrangements and Music for Cello, Flute and Piano (2022)
WEB FLAC (tracks) - 212 Mb | MP3 CBR 320 kbps - 143 Mb | 01:02:17
Classical | Label: Da Vinci Classics
For a long time, Ennio Morricone (1928-2020) kept the two main fields of his compositional activity neatly separated. First, there was film music: this was undoubtedly the best known and also the most abundant of the two. His artistic partnerships with directors such as Sergio Leone, Giuseppe Tornatore, Pier Paolo Pasolini, Giuliano Montaldo, Elio Petri, and Gillo Pontecorvo marked the history of film music. However, the directors with whom he cooperated, also on the international stage, are very numerous, including Brian De Palma and Quentin Tarantino. His film music comprises nearly 500 scores: a record quantity, reached over the course of more than five decades, and crowned by three Academy Awards, three Golden Globes, five BAFTAs, a Grammy and countless other awards.

The other category is his works for the concert hall: symphonic-choral scores, chamber music, and works for solo instruments. They mirror his education and studies under the guidance of the absolute master Goffredo Petrassi, as well as his knowledge of contrapuntal technique, avant-garde vocation, and experience as a performer in the Improvisation Ensemble "Nuova Consonanza". This category includes about 130 works: even though these cannot compare with the exceptional quantity of his film music, they still represent a notable portion of his compositional activity. In order to define this output, Morricone reassumed and updated a concept once created by Richard Wagner, and adopted the expression of "absolute music".

For the Roman composer, reflection on the independence of music from other factors becomes central. Precisely due to his persistent cinematographic activity, the composer was aware that the diverse destinations of his work (cinema or concert hall) conditioned his style and compositional modes. Film music was "applied music", created in order to support a narrative made of moving images. But this is not all. Composing for the cinema also means adapting one's writing to specific times and manners. A movie needs "themes", i.e. comparatively short musical motifs, capable of integrating themselves with the meaning and affective climate of a particular scene, and even intuitively communicating to the spectator the deep meaning of the movie itself. Morricone was perfectly aware that music, when bound to images, decisively conditions the perception of a movie. He also knew that much depends on how the director will use that music. Concert music, instead, is "absolute music", entirely free from any conditioning, autonomous in its forms and styles. Indeed, it is open both to a dialogue with the "cultivated" tradition, and to the most daring experimentations. This freedom is hardly tolerated by the dynamics of cinema.

Morricone pursued these two kinds of aesthetics for a long time. At first, he kept them on different tracks, but later he let them flow and merge into one another, trying absolutely to nullify their differences. One needs only to listen to the complexity marking some of the works of his last period, such as Baarìa, La sconosciuta (The Unknown Woman), and La migliore offerta (The Best Offer – Deception). On the other hand, it comes as no surprise that a sacred work, and one woven together with contrapuntal processes, such as the Missa Papae Francisci, embodies a considerable part of the music written for the film The Mission.

The film themes in which it is easy to appreciate a "classical" substance are very numerous. The contrapuntal discipline is almost omnipresent, and the trained ear can recognize his homage to masters of the past. Not infrequently, a taste for experimental solutions surfaces.

The project Absolutely…Ennio Morricone, of which this CD constitutes the first volume, has precisely this aim: to draw an all-round portrait of a genius composer, who, with his music and his very recognizable style, was able to reach a very wide audience, without ever renouncing a nobility of writing whose roots dig deeply into the classical tradition.

There are scores conceived for the cinema; some are presented in their original version, others in chamber versions rigorously realized by the composer, but there are also pages of "absolute music". These two styles follow each other in such a way that each dimension merges with the other with spontaneity and fluidity. Then, even an extremely famous theme such as "Gabriel's Oboe" from The Mission, here offered in a transcription for flute, cello, and piano trio , can surprisingly reveal the transparency of the voices' interweaving.

However, the way in which Morricone decides to assemble his creations is also what confers them to a precise formal setup. This happens, for instance, with the Suite Tornatore, which collects themes from La leggenda del pianista sull'oceano (The Legend of 1900), Nuovo Cinema Paradiso (Cinema Paradiso), and Malèna and Una pura formalità (A Pure Formality), which are entrusted to an essential dialogue between cello and piano.

In the same fashion, Morricone builds a piano suite with the title 4 Canzoni, "pulling out" two themes from scores which are not among his most well-known (such as White Dog and Stark System), together with pieces excerpted from successful films (such as Indagine su un cittadino al di sopra di ogni sospetto [Investigation of a Citizen Above Suspicion] and Metti, una sera a cena [Love Circle]). This formula will recur again on other occasions in his vast catalogue.

Differently from Love affair, which appears in the original score for the eponymous film produced and interpreted by Warren Beatty in the form presented here, the solo piano version of "Deborah's Theme", from C'era una volta in America (Once Upon a Time in America), was realized at a later moment. It is interesting to observe that, deprived of the colours of its orchestration, Morricone's pianistic writing highlights the fragmentary structure of this famous theme. These are like flashes of memory which coalesce, restoring the emotions of a movie which is built precisely on the thread of memory. A discussion of its own is warranted for Addio a Pier Paolo Pasolini, a piece written in 1975 for Salò o le 120 Giornate di Sodoma (Salò or the 120 Days of Sodom), Pasolini's last movie. The director expressly requested that Morricone compose a dodecaphonic piece. It would be inserted at a particularly agonizing moment in the movie: a pianist, aware of the atrocities which the protagonists perpetrate on both boys and girls, plays the piano, and, at the end, takes her life by jumping from a window. Morricone dedicated this score to the director, after his tragic death shortly later. Due to its characteristics, this is one of those pieces whose cinematographic origins are practically irrelevant. It can be listened to in the same fashion as one hears Klavierstück by Arnold Schoenberg.

Invenzione, Canone e Ricercare is a pianist triptych, belonging in the first stage of Morricone's compositional activity, long before his film compositions . The score's date is 1956, but the Ricercare was written back in 1952. In this case there is no ambiguity: they are three short pages of absolute music. Even though these are youthful works, they display, from their very titles, some references to precise forms of the early tradition and a clear predisposition for contrapuntal processes. The influences of composers such as Frescobaldi, Bach, and the early Petrassi emerge and would always constitute a reference point for Morricone.

A more distinctly melodic character returns in the pieces for flute and piano. Per le antiche scale has an intimate tone which perfectly suits the atmospheres of Mauro Bolognini's movie. On the other hand, La corta notte delle bambole di vetro is a melodic oasis, even though it is not without some disquietude. It belongs in one of the most experimental film scores by Morricone.

Morricone's propensity toward the avantgarde is freely manifested in Proibito, a piece from 1972, dedicated "to the friends of the Gruppo di Improvvisazione Nuova Consonanza". It was originally conceived for a trumpet, whose sound is superimposed on itself in a sixteen-track tape (in the case of a studio recording), or otherwise for eight amplified trumpets (in the case of a live performance in a concert hall). Rather than a score, Proibito is an improvisation scheme. It is an exceptional documentation of how the preparation of the Ensemble's performances could take place. The Ensemble, founded in 1958 by Franco Evangelisti, was the first European ensemble constituted by composers dedicated to non-jazz improvisation.

It was Morricone himself who asked Luca Pincini, one of his longtime collaborators (as were Gilda Buttà and Paolo Zampini) to realise a version for cello and pre-recorded tracks. The created piece thus preserves, unaltered, the research and exploration of the sonorous possibilities which were considered experimental in the Seventies and are now fully acquired. Its most interesting aspect lies precisely in the observation that a scheme originally conceived for a wind instrument can be developed by an instrument with a completely different nature, such as the cello. Pincini literally wraps this instrument in an undreamed-of timbral cloud, with percussive effects, noises, and "industrial" sounds.
Tracklist:
1.
Gilda Buttà – Love affair (For piano)
(02:37)
2.
Gilda Buttà & Paolo Zampini – Per le antiche scale (For Flute and Piano)
(02:25)
3.
Luca Pincini, Gilda Buttà & Paolo Zampini – Gabriel's Oboe (The Mission) [For Flute, Cello and Piano]
(02:25)
4.
Luca Pincini & Gilda Buttà – Tornatore Suite: I. Playing love (The legend of 1900) [For Cello and Piano]
(02:04)
5.
Luca Pincini & Gilda Buttà – Tornatore Suite: II. Nuovo Cinema Paradiso (Main Theme) [For Cello and Piano]
(02:14)
6.
Luca Pincini & Gilda Buttà – Tornatore Suite: III. Nuovo Cinema Paradiso (Love Theme) [For Cello and Piano]
(02:30)
7.
Luca Pincini & Gilda Buttà – Tornatore Suite: IV. Malena (For Cello and Piano)
(04:07)
8.
Luca Pincini & Gilda Buttà – Tornatore Suite: V. Ricordare (Una pura formalità) [For Cello and Piano]
(03:06)
9.
Luca Pincini – Proibito (For 8 Cellos in overdubbing)
(08:41)
10.
Gilda Buttà – 4 Canzoni: No. 1, Cane bianco (1982) [For Piano]
(04:07)
11.
Gilda Buttà – 4 Canzoni: No. 2, Stark system (1980) [For Piano]
(02:26)
12.
Gilda Buttà – 4 Canzoni: No. 3, Indagine su un cittadino al di sopra di ogni sospetto (1969) [For Piano]
(02:53)
13.
Gilda Buttà – 4 Canzoni: No. 4, Metti una sera a cena (1968) [For Piano]
(04:07)
14.
Gilda Buttà – Addio a P. P. Pasolini (Salò o le 120 giornate di Sodoma) [For Piano]
(03:48)
15.
Gilda Buttà & Paolo Zampini – La corta notte delle bambole di vetro (For Flute and Piano)
(02:21)
16.
Gilda Buttà – Invenzione, Canone e Ricercare: I. Invenzione (For piano)
(02:54)
17.
Gilda Buttà – Invenzione, Canone e Ricercare: II. Canone (For piano)
(00:57)
18.
Gilda Buttà – Invenzione, Canone e Ricercare: III. Ricercare (For piano)
(04:50)
19.
Gilda Buttà – Deborah's Theme (Once Upon a Time in America) [For piano]
(03:36)
–––––––––––-

DON'T MODIFY THIS FILE

–––––––––––-

PERFORMER: auCDtect Task Manager, ver. 1.6.0 RC1 build 1.6.0.1
Copyright © 2008-2010 y-soft. All rights reserved

ANALYZER: auCDtect: CD records authenticity detector, version 0.8.2
Copyright © 2004 Oleg Berngardt. All rights reserved.
Copyright © 2004 Alexander Djourik. All rights reserved.


FILE: 19 - Gilda Buttà - Deborah's Theme (Once Upon a Time in America) (For piano).flac
Size: 8989146 Hash: 38C10BB8B4A0F2A178A614638B2A36E5 Accuracy: -m8
Conclusion: CDDA 100%
Signature: E0B470125F9B1AE8E37C6799E285670C4D53D0C1
FILE: 18 - Gilda Buttà - Invenzione, Canone e Ricercare- III. Ricercare (For piano).flac
Size: 14731000 Hash: 66650AAFBB7D56BACE0B0D54D29581F2 Accuracy: -m8
Conclusion: CDDA 100%
Signature: 5A761C701BEE2AA391C6EE8E672EC2C6646FD8A0
FILE: 17 - Gilda Buttà - Invenzione, Canone e Ricercare- II. Canone (For piano).flac
Size: 3253855 Hash: E56FBAE6222D668905EE355276396174 Accuracy: -m8
Conclusion: CDDA 99%
Signature: BEF163941DC967580F1B4A4C8ACDCAF35ECDDDF5
FILE: 16 - Gilda Buttà - Invenzione, Canone e Ricercare- I. Invenzione (For piano).flac
Size: 9371224 Hash: 26191ED67809FC3DF7EC1BC863291104 Accuracy: -m8
Conclusion: CDDA 94%
Signature: FF018F05BF8E8E4B9306BFDE24F6B68656069451
FILE: 15 - Gilda Buttà - La corta notte delle bambole di vetro (For Flute and Piano).flac
Size: 9277140 Hash: 937E216AFDBD04CC475FC57703612C67 Accuracy: -m8
Conclusion: CDDA 100%
Signature: 9C3693B4D2AA02702537F74721E627A059706EB4
FILE: 14 - Gilda Buttà - Addio a P. P. Pasolini (Salò o le 120 giornate di Sodoma) (For Piano).flac
Size: 10091463 Hash: 7BA02D2ADE6444DF6E2839BAD3D420B9 Accuracy: -m8
Conclusion: CDDA 100%
Signature: 60224510433BA2DF03DD5D9EE64617847A11FE27
FILE: 13 - Gilda Buttà - 4 Canzoni- No. 4, Metti una sera a cena (1968) (For Piano).flac
Size: 13055144 Hash: 037A8986F61C2DFDEBC0DF421D73E4CC Accuracy: -m8
Conclusion: CDDA 100%
Signature: 3EFAE2A1E96D858536E6B575B1BA6C90F599EC76
FILE: 12 - Gilda Buttà - 4 Canzoni- No. 3, Indagine su un cittadino al di sopra di ogni sospetto (1969) (For Piano).flac
Size: 9534803 Hash: A17DE8A004ADB7E2CB1CA0242EA07E18 Accuracy: -m8
Conclusion: CDDA 100%
Signature: 80180B445CED9DFA8CA201FC902668C152F506F3
FILE: 11 - Gilda Buttà - 4 Canzoni- No. 2, Stark system (1980) (For Piano).flac
Size: 7505546 Hash: E265C95DF4EA0877176CB398A92700A9 Accuracy: -m8
Conclusion: CDDA 100%
Signature: 7B56FCEC883BC92EF9DDE60271E2FDF74EEB904E
FILE: 10 - Gilda Buttà - 4 Canzoni- No. 1, Cane bianco (1982) (For Piano).flac
Size: 12026002 Hash: 8A0BA4537D675C6A9DBE3941D6F6721B Accuracy: -m8
Conclusion: CDDA 100%
Signature: 924DC96355A3F6A44AC1C9EEB33385E3800262A4
FILE: 09 - Gilda Buttà - Proibito (For 8 Cellos in overdubbing).flac
Size: 38726127 Hash: 62ED1856E0F1DB1E679E0F25B45FBC1F Accuracy: -m8
Conclusion: CDDA 100%
Signature: 9176BB044217D1D8D0AD6D56358DCA974131844A
FILE: 08 - Gilda Buttà - Tornatore Suite- V. Ricordare (Una pura formalità) (For Cello and Piano).flac
Size: 11758329 Hash: 7C1822B1B4B9C95CA59E68A146130C89 Accuracy: -m8
Conclusion: CDDA 99%
Signature: D4B9DBCD02DD439E7C623536216F7314C48C5282
FILE: 07 - Gilda Buttà - Tornatore Suite- IV. Malena (For Cello and Piano).flac
Size: 15361280 Hash: 3C9C547ADF6A17F00CC59791C1458BED Accuracy: -m8
Conclusion: CDDA 100%
Signature: AD6FED4C523147D994AC4546D9030BAA324321F8
FILE: 06 - Gilda Buttà - Tornatore Suite- III. Nuovo Cinema Paradiso (Love Theme) (For Cello and Piano).flac
Size: 9920901 Hash: E87A328026E085FD9955764509DE172B Accuracy: -m8
Conclusion: CDDA 100%
Signature: 4E08F30673B44502069DBC234EDCE4547C7B81DE
FILE: 05 - Gilda Buttà - Tornatore Suite- II. Nuovo Cinema Paradiso (Main Theme) (For Cello and Piano).flac
Size: 9902628 Hash: B3ED443BFFECD71475B1AE1636C56BD1 Accuracy: -m8
Conclusion: CDDA 100%
Signature: B9C28EE0716BD357EC08BDE6B3BF903F7A8D3472
FILE: 04 - Gilda Buttà - Tornatore Suite- I. Playing love (The legend of 1900) (For Cello and Piano).flac
Size: 8794982 Hash: F37AE6978404F4D1486905B634BF3EBB Accuracy: -m8
Conclusion: CDDA 100%
Signature: C5D0D6799524F4005A8CAD707EF08A509DBAA3DA
FILE: 03 - Gilda Buttà - Gabriel's Oboe (The Mission) (For Flute, Cello and Piano).flac
Size: 11266668 Hash: 93E7DE37CDCAA53FB0ED49435518620D Accuracy: -m8
Conclusion: CDDA 100%
Signature: 8AA61FFE1874EEE42891E9D8A4C5B98B4F20D329
FILE: 02 - Gilda Buttà - Per le antiche scale (For Flute and Piano).flac
Size: 10212142 Hash: 09939E63A832A9ACBCF68F3C512EFCB6 Accuracy: -m8
Conclusion: CDDA 99%
Signature: 91152EE2B07C2C11131AAC8801D4CB5E49367426
FILE: 01 - Gilda Buttà - Love affair (For piano).flac
Size: 7709000 Hash: 3FFE2BCDAF9135B07F43832AB51F3927 Accuracy: -m8
Conclusion: CDDA 100%
Signature: 06468BDF81B877697FFD2A9873CADE65CE94FBFA