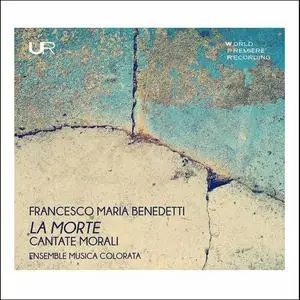 Anna Fei & Musica Colorata - Benedetti: La morte & Cantate morali (2022)
FLAC (tracks), Lossless / MP3 320 kbps | 1:13:02 | 296 / 168 Mb
Genre: Classical / Label: Urania Records
Trained under the guidance of A. Scorpione, D.A. Giordani and F.A. Urio, Francesco M. Benedetti is Chapel Master in Assisi, friend of G. Tartini and confrere of Father Martini. The complex counterpoint of his music closely recalls Bachian characteristics which, however, give way to galant elements that in some points result in a pre-classical language. Dense and virtuosic ornamentations typical of the performance pratice of the time support the theories on the ornamentation practice of the time.