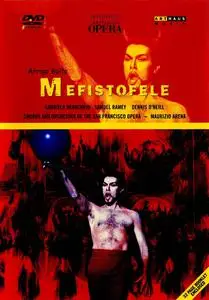 Maurizio Arena, Orchestra of the San Francisco Opera House - Arrigo Boito: Mefistofele (2003/1989)
PAL 4:3 (720x576) | Italiano | LinearPCM, 2 ch | 7.37 Gb (DVD9) | 160 min
Classical | Label: Arthaus Musik | Sub: Italiano, Français, English, Deutsch, Español
Arrigo Boito's treatment of the Faust legend is imaginative yet also faithful to Goethe's original conception, and the score is memorable for its rich orchestral sounds, beautifully punctuated with lyrical passages and choral interludes. Robert Carsen's sumptuous, post-modern production of Mefistofele is a gloriously decadent and theatrically stunning realisation, and the San Francisco Opera's performance has been unanimously acclaimed in both Paris and San Francisco. Samuel Ramey, in the title role, has won both critical and overwhelming popular approval.