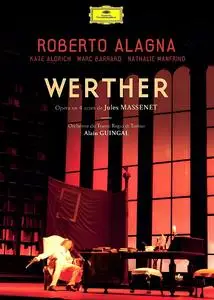 Alain Guingal, Orchestre du Teatro Regio di Torino, Roberto Alagna, Kate Aldrich - Massenet: Werther (2014/2005)
PAL 16:9 (720x576) | Français | LinearPCM, 2 ch | DTS, 6 ch | 7,51 Gb (DVD9) | 135 min
Classical | Deutsche Grammophon | Sub: Français, English
World-renowned tenor Roberto Alagna stars in the most passionate of French operas, conveying the young poet's journey from naïve hope to the agony of the much-loved aria 'Pourquoi me réveiller?' and the shattering final tragedy.
Massenet's glorious opera, based on a novel by Goethe, is regularly performed all over the world and its central role is one in which Roberto Alagna has been celebrated for more than a decade. The role of Werther's beloved Charlotte is sung by American mezzo Kate Aldrich (an acclaimed Carmen at 'The Met'), who has sung the role to critical acclaim in Europe and Japan. Filmed live at the Teatro Regio in Turin, the powerful stage production is the work of another member of the Alagna family – the tenor's younger brother, David.