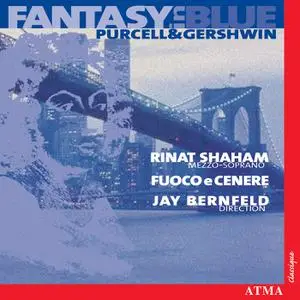 Jay Bernfeld, Rinat Shaham, Fuoco e cenere - Fantasy in Blue Purcell & Gershwin (2001)
WEB | FLAC (tracks) - 279 MB | 57:07
Genre: Classical | Label: ATMA Classique
Did the world need to hear Gershwin played by a viol consort, with an occasional recorder tootling along? If so, then why not Purcell accompanied by a jazz piano? The idea of combining the two composers in one performance is an attractive one, and the mix of vocal and instrumental pieces by each composer here is intelligently grouped. Arranger and leader Jay Bernfeld offers several parallels. Both composers were, in the broadest sense, urban sensations and musical-theater composers with bigger things on their minds; both managed to complete one towering opera before dying young. He might have added more items to his list: the ground basses of Purcell's time are elaborated by their melody lines in a manner akin to, if not precisely comparable to, the structure of Gershwin's songs.