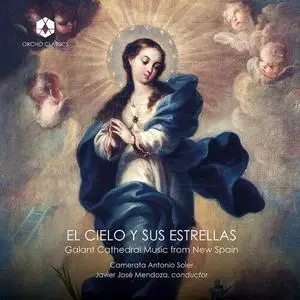 Camerata Antonio Soler & Javier José Mendoza - El cielo y sus estrellas: Galant Cathedral Music From New Spain (2022)
FLAC (tracks), Lossless / MP3 320 kbps | 63:55 | 340 / 146 Mb
Genre: Classical / Label: Orchid Classics
For some years, I have been performing and recording eighteenth-century galant music from the viceroyalty of New Spain. This latest album with the Camerata Antonio Soler presents a sample of the instrumental soundscape, along with vocal works set to Spanish paraliturgical texts that were all performed in New Spain. Although some of the works included here were not written in the New World, every piece presented on this album is conserved in present-day Mexico and Cuba – they were undoubtedly a part of cathedral musical life. We have included works by Davide Perez, Luis Misón, and José Herrando; each having made their careers on the Iberian Penninsula. Also included are two Italians who served as chapel masters in present-day Mexico. Santiago Billoni and Ignacio Jerusalem worked in Durango and Mexico City respectively. Finally, Esteban Salas was born in La Habana, Cuba and worked at Santiago Cathedral.