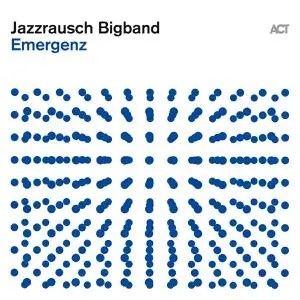 Jazzrausch Bigband - Emergenz (2022)
WEB FLAC (tracks) - 293 Mb | MP3 CBR 320 kbps - 105 Mb | Digital booklet | 00:43:18
Contemporary Jazz, Electronic, Big Band | Label: ACT Music
Jazz meets techno meets big band. It really shouldn't work…and yet, as anyone who has ever heard or seen the Jazzrausch Bigband will know, the reality of the band in action firmly knocks that idea on the head. Ever since Jazzrausch started in 2014, it has been on an unstoppable path of growth and development which has been very much on the band's own terms. Jazzrausch first came to attention as the house band at the legendary Munich techno club "Harry Klein" – currently threatened with closure, incidentally – where the recordings for the new album "Emergenz" were made. Since then, the band's growing renown has taken it to Germany's great temples of classical music: the Elbphilharmonie in Hamburg, the Isarphilharmonie in Muich and the Berlin Philharmonie… and a buzz has been building internationally too. What is Jazzrausch Bigband all about? Putting a couple of exceptional and unconventional musical brains in charge, letting their sense of what is serious and what is banging prevail, and then seeing how much it can appeal to both younger and older audiences. Jazzrausch has dealt with the whole idea of 'no can do'. By hitting it out of the ballpark.