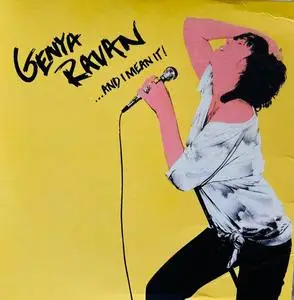 Genya Ravan - …And I Mean It! (1979/2023)
CD Rip | FLAC (tracks, cue, log) - 282 MB | MP3 CBR 320 kbps - 95 MB
41:17 | Classic Rock, Power Pop, Rock & Roll | Label: BFD / The Orchard
…And I Mean It is an amalgam of girl group, new wave, blues, pop, and folk-rock by Genya Ravan. To hear her exquisite voice on "Night Owl" soaring above her own backing vocals is intense, imagine Etta James backed by the Sex Pistols doing a rock version of "Earth Angel." Of all Ravan's work, …And I Mean It is possibly the most concise and picture-perfect statement of what the woman is musically about. A girl group pioneer who worked with Richard Perry prior to his finding the Pointer Sistersgroove, there is no doubt Ravan influenced that major producer, and his work did the same for her. "Pedal to the Medal" is high-end treble rock before it came into vogue. This is the other side of Siren, the album Genya produced for Ronnie Spector, with more emphasis on a good-time rocking party. "I'm Wired, Wired, Wired" is a rock & roll anthem for people who burn the candle at both ends, while "I Won't Sleep on the Wet Spot" embodies the unbridled sexuality of this album. The music crunches while Ravan uses her voice, her production skills, and her legacy to create something far removed from her days in Ten Wheel Drive.